Authors Diana Louden and Lauren Michaels contributed to this piece.
Imagine yourself as a nurse, nine hours into your 12-hour ICU shift. After watching your favorite patient take an unexpected turn for the worse, you manage to break away for just a minute to sit. Utter exhaustion overtakes you. Your feet hurt from standing, your back aches from helping weak patients move in their beds. The thin layer of sweat that began seven hours ago has intensified, and you realize you are drenched. And you have three hours left. Suddenly, you notice someone is talking to you. "Excuse me! I said my mother needs help, and you're just sitting there!" Your first chance to breathe, your one moment to process the anguish you've both witnessed and experienced firsthand, and it's over. Back to work.
The essential workers who we rely on to revive the sick and treat the suffering are under extreme pressure to perform while dealing with their own emotional and physical stress. Staff burnout is on the rise, and health systems are looking for new and innovative ways to engage their employees to promote healthy living and excellent patient care. Alarmingly high percentages of healthcare workers – from medical students all the way up to attending physicians – are experiencing symptoms of burnout. Studies over the last decade have yielded numbers ranging from 33% (hospital nurses) up to 78% (surgical residents). The repercussions can be great and have drastic impacts at the institutional level. Burned-out healthcare workers are at increased risk for malpractice suits, lower patient satisfaction, alcoholism and higher levels of patient mortality. So, what can we do?
When looking at the challenges that healthcare workers face every day, one thing is clear: we need to help those who help others. Designers and healthcare leaders alike need to take a new, holistic approach to designing for staff wellness. That was the impetus for our Clinician-Centered Design focus here at Array. We have explored some exciting ways to rethink staff support spaces and created a guide to aide in the planning and design of these staples as well as some unique new options.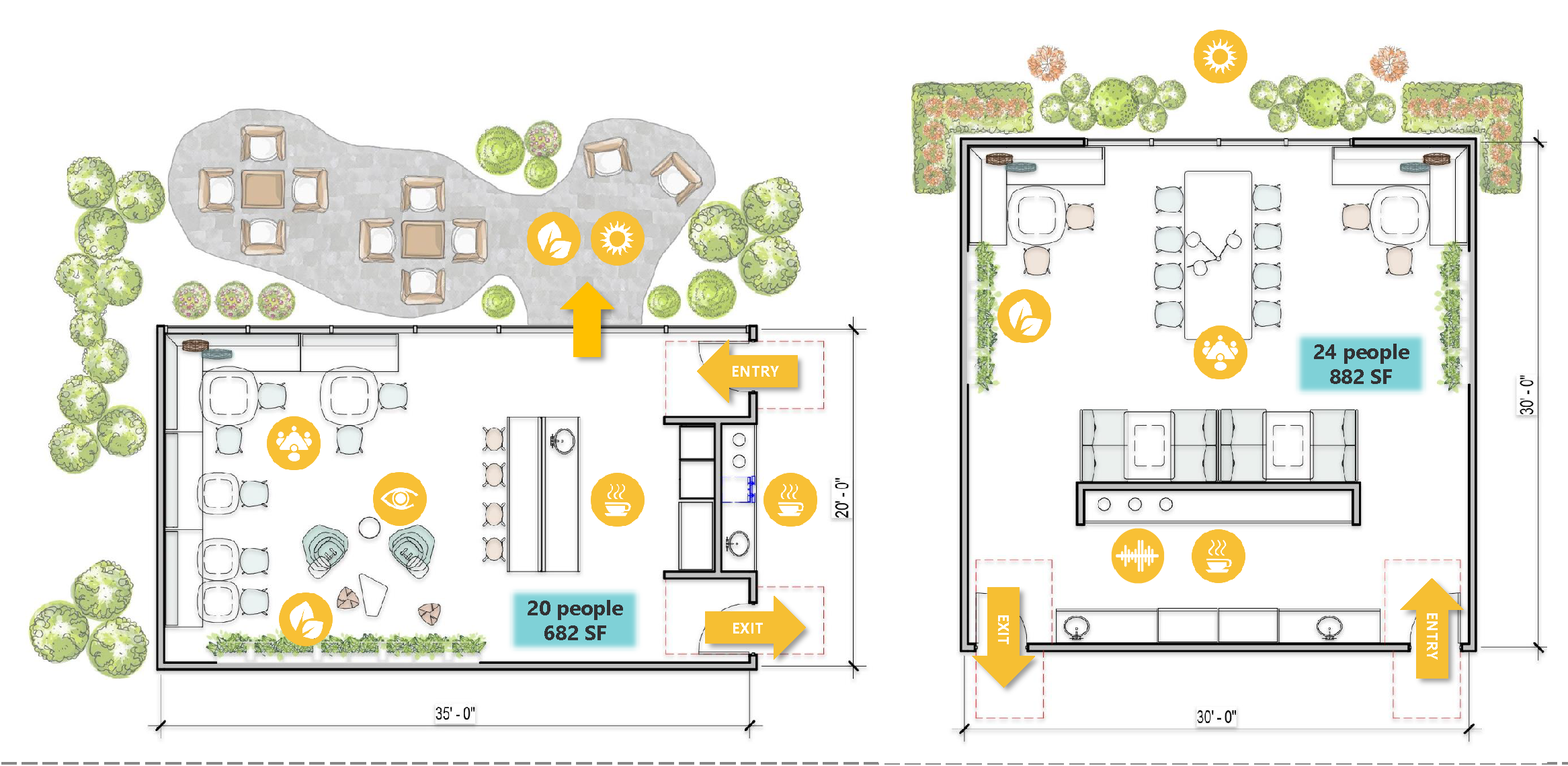 In Array's Respite Toolkit, various types of spaces are explored with considerations spanning functional planning components, sensory elements, infection control, connections to nature and scalability. This kit of parts can be customized for the size and preferences of an institution, providing a fresh take on the usual programs and presenting new ideas for facilities to explore.
The parts, categorized as essential, private, holistic or convenient, offer multiple types of support for staff, whether that's a comfortable place to decompress during a difficult shift, a private room to take a phone call or a station to get a healthy meal quickly and easily. With carefully selected programs, hospitals can significantly alleviate the burden and lessen the burnout of their workers.
Hospitals always have the essentials: staff lounges, lockers, restrooms. Unfortunately, these small areas of reprieve are too often an after-thought in the design. They are crafted from whatever space is leftover after the departments are planned, leaving 50 employees to a 100-square foot (SF) room with no windows and a small table shoved into the only space unoccupied by lockers. Even if a staff member can escape the unit, this is hardly a place to unwind.
Array's toolkit provides direction on how to properly size this room or group of rooms early in the planning process to avoid cramped conditions. With a recommended 24 SF/person for lounge space and 12 SF/person for a pantry, the staff lounge will easily accommodate the necessary planning components, including a kitchenette, handwashing station, vending machines and varied seating, as well as new amenities for staff.

Amenities can take many forms. Consider treating the fatigued to a welcoming beverage bar or bright outdoor space offering sunlight and fresh air. Indirect dimmable lighting and biophilia-inspired finishes can create the feeling of connecting to nature – especially when locating the lounge along the perimeter is not an option. A mix of high-top seating for dining and lounge furniture for comfort creates discrete areas that facilitate privacy and rest. Reconfigurable furniture allows this space to flex for staff meetings or break-out sessions, or even social distancing during times of a pandemic. There is so much potential for a properly-sized lounge. It can stand on its own or be enhanced with additional parts when space and budget allow.
Privacy is a key factor in helping staff feel comfortable enough to decompress in a public space. Quiet and consult rooms with visual and acoustic privacy provide a place to process a particularly difficult experience, have a personal conversation, or even meet with a mental health specialist. Depending on the available space, these can be separate rooms or one flexible room. When space is very limited, consider designating areas within the staff lounge. These can include tall, winged furniture, sensory pods or demountable cubicles that serve some of the same functions as rooms. The Array Toolkit shows examples of different ways to achieve privacy and explores additional types of spaces to incorporate.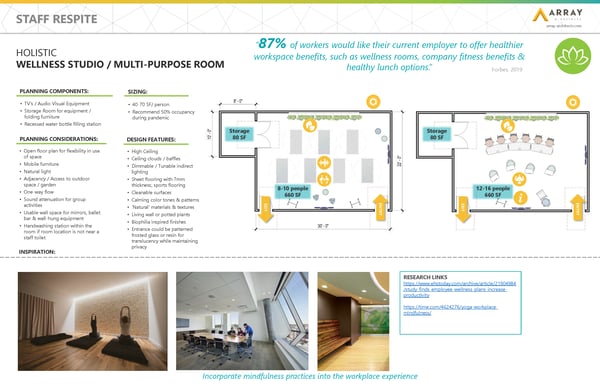 For facilities able to go the extra mile and take a more holistic approach to staff wellness, there are so many more options to consider. The wellness studio / multi-purpose room concept is a unique feature that turns a space used for conferences and education into a relaxing environment to facilitate physical health and meditation. At a recommended 40-70 SF/person, this open space would be designed flexibly with movable furniture and AV equipment for conferences and soft design features for a studio.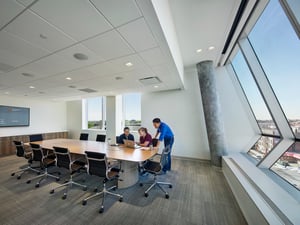 A wellness studio / multi-purpose room can include cloud ceilings, dimmable lighting, thick sheet flooring and cool, calming tones to provide a pleasant backdrop for business functions and a conducive setting for relaxation. A recessed bottle filler takes up no floor space and an attached storage closet holds whichever function is not in use. This is such an easy way to take a space that is already needed for day-to-day hospital use and transform it into a haven of respite. When more space and funding is available, convenience stations flesh out a comprehensive staff suite. From healthy grab-and-go meals, to dry cleaning, and personal mail pick-up/drop-off, the workplace becomes a one-stop shop for staff who are struggling to manage their personal lives around their 12-hour shifts.
Whatever the spatial limitations or budget, Array's Respite Toolkit will help you plan with a purpose. It is so critical that we consider the health and wellness of our healthcare workers when creating or renovating facilities. As they work to save lives, we need to work to support them.
Read all installments in this series:
Respite: An Essential Need for Essential Workers