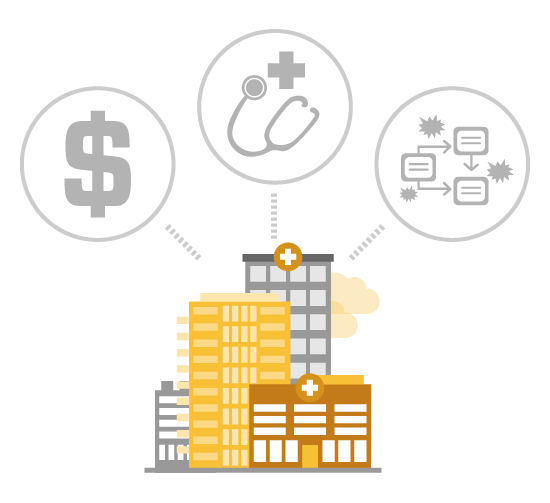 This blog concludes a three-part synopsis of a brainstorming session about ambulatory care facility development that Array co-sponsored in New England. As covered in Parts one and two, there are many items to consider when deciding how to approach this strategy and building type. Part three will wrap up the series listing some challenges that healthcare leaders in this market often face other than the legislative changes already referenced in "Taking the Pulse of Healthcare Real Estate Strategies".
BUDGET
The infrastructure that enables a variety of services, such as cancer care, comes at a high cost. In this instance, facilities need equivalent hospital infrastructure, so they must follow the same CON format. Additionally, to provide that level of care, they need comparable equipment, such as CTs and MRIs. On the flip side however, codes sometimes differ between ambulatory standards and hospital standards.
Another budgetary challenge that clients are often shocked by is that construction cost in suburbia is the same as it is in the center of Boston, since they assume it should be less expensive. This makes that reimbursement model very difficult so clients aren't seeing a benefit to being in bordering communities.
Furthermore, in both urban and suburban environments, organizations have experimented with the adaptive reuse of different building types, but this brings a new set of challenges. Aside from infrastructure being a key criterion for site selection, other items that should be considered are floor-to-floor heights, location, and the type of parking that's available. Bringing in a design team early on to perform an assessment study that will look at the adaptability of existing buildings to house ambulatory care could help future-proof a client's facility.
It is beneficial for hospital leadership to be involved with the project early enough so that they understand the challenges and potential budget constraints. Additionally, leadership must be comfortable with the expense of building the infrastructure up front before earning any revenue.
PLANNING
Planning for the future begins with the simple question, "What are you doing to make sure the space is programmed to accommodate your needs?" The answer could help offset infrastructure costs if potential expansion is being contemplated at the start of a project. Many satellite facilities that have been built recently are already at capacity when they open.
Clients need to investigate future use when they are looking at infrastructure, including IT infrastructure. IT infrastructure has become an increasingly important consideration. Telemedicine is on the rise and with doctors being more centralized, IT data capabilities are instrumental. They need access to medical records, must be able to read images clearly and use technology in a variety of ways.
How can we include IT infrastructure in the planning process? How can we ensure we have the utilities needed for the future when we don't know what the future holds? Power may be upsized, which means large pipes and conduits need to exist so detailed data can flow quickly and accurately. A T1 line used to be ok, but that's not realistic anymore. Fiber has made a significant difference, but it's still dramatically different now. Because of this, some institutions have used a data center. Overall, the technology that is required for today's needs can contribute to additional square footage.
Utilization should always be considered in the planning process. Thinking about situations like patient no-shows or late arrivals helps to determine the appropriate square footage.
DOCTOR-RELATED CHALLENGES
Physicians are having a tough time grasping the move to suburbia. Institutions are having difficulty convincing doctors and practitioners to go to the suburbs because it's not "sexy" enough. The quality of design and construction is usually different from the main campus, and being in Boston Proper is more attractive.
With the transition from independently-owned to employee-based practices, management is struggling to convince their doctors to operate in a model that's different from how they traditionally operated. The transition to employed groups is also causing more requests for tenant fit-out financial assistance.
Finally, primary care isn't of interest to many physicians coming out of medical school these days and there aren't enough doctors to satisfy the increasing need.
With the latest news of the House passing the AHCA (American Healthcare Act), the challenges and trends may change, but we'll continue to put our heads together with other industry experts and figure out how to best approach ambulatory care.
Blog authored by Jennifer O'Donnell, a former VP, Business Development at Array.