Array recently co-sponsored an event about how healthcare institutions in New England, primarily the Boston Area, are approaching ambulatory care. We invited a cross section of developers, property owners, facility leaders, real estate leaders and designers; all who have a great understanding of this particular market. It was enlightening to hear what stakeholders are facing these days, and a great forum to get challenges out on the table for the participants to work through and tackle together as a team.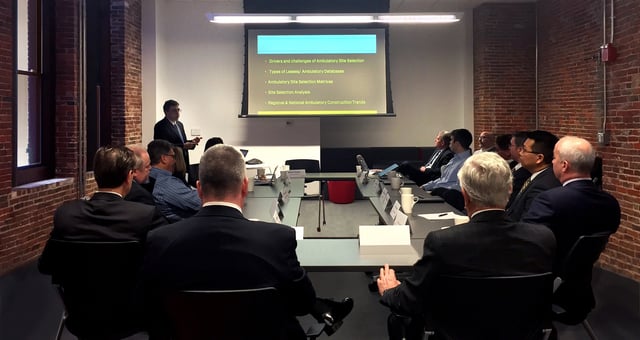 In a healthcare landscape where consolidations, mergers & acquisitions, third party financing options, etc. are prevalent, healthcare systems are dealing with a lot of moving parts when it comes to determining the right real estate strategy to accommodate their staff and patients. The pendulum continues to swing from side-to-side, and healthcare leaders and real estate teams need to be sure everything is being taken into consideration.
In recent years, a prominent trend was for major institutions to push ambulatory care services out to suburban areas to capture less demanding cases while handling the more critical, unique cases at the mothership facility. As the healthcare outlook gets even more complicated, the goal that everyone was working so hard towards achieving, may have become a thing of the past. As of November 2015, Section 603 of the Bipartisan Budget Act of 2015 limits Medicare payments for new off-campus outpatient departments. These new reimbursement restrictions have triggered another wave of uncertainty limiting satellite growth.
Outpatient facilities were seen as a way to get to the market quicker at a lower cost, but this new legislation has significantly changed providers' business and master plans. Systems nationwide are in the midst of building outpatients centers to both improve patient access and deliver care at a lower cost, but if these buildings are beyond 250 yards of the main healthcare providers' campus, the reimbursements they were once counting on could be going away.
Reimbursement pressures are bringing a lot of projects to a screeching halt. Compounded with many unknowns with the new presidency, these demands are forcing healthcare leaders to put projects on hold or look for other options and find ways to be creative. Hospitals are thinking outside the box and making changes such as moving research space off campus to then move outpatient services back on campus for the purpose of reimbursements. These uncertainties are forcing suburban hospitals to slow down their outpatient plans and instead focus on minor deferred maintenance projects in the interim.
Be on the lookout for a Part II blog where I'll delve into the trends and challenges facing healthcare institutions in New England and nationwide.
Blog authored by Jennifer O'Donnell, a former VP, Business Development at Array.