Featured in Medical Construction & Design's December 2015 Newsletter.
A busy block in Brooklyn is the site of an Ambulatory Care Center (ACC) under construction. When a neighborhood such as this requires new infrastructure, executing the project often consists of overcoming many hurdles. As in many cities, New York has zoning resolutions, which often differ from one neighborhood to the next or overlap and intertwine, not always reflecting what the neighborhood may need. One thing nearly all zoning laws have in common is the arduous processes involved in wading through the text to find applicable provisions for each project. Once established, there is an even lengthier process for receiving variances or easements to overturn them to better suit a project's needs.
Straightening out the zoning took a month of flipping back and forth, then back again through pages upon pages of codes. From the onset we committed to designing a structure 'as of right,' which means working within the zoning requirements as opposed to acquiring variances to zoning laws. After studying the intricacies of the zoning laws, we succeeded in designing a contemporary structure with no design elements compromised and our design required no code variances – a big plus in terms of scheduling and budgeting. To stay within an aggressive schedule and tight budget, a team of designers and zoning experts dedicated themselves to understanding the code complexities so we could design a seven-story ACC correctly and to the client's and future constituents' best advantage.
The site of our ACC comprises a corner lot, through lot and interior lot with no shortage of detailed zoning parameters that dictate height; parking restrictions; strict measurements and locations of entrances and exits; loading and unloading requirements; bicycle parking requirements; and street tree requirements. The parameters related to infrastructure proximity alone were an effort that took nearly a month to unravel.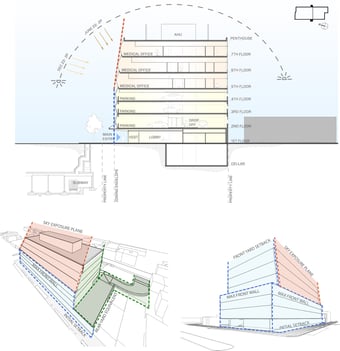 These laws also accounted for the virtual sky and sun exposure planes – virtual sloping planes that begin at a specified height above the street line and rise inward over the zoning lot as a ratio of vertical distance to horizontal distance set forth in a district's regulation. This particular zoning law had a significant impact on the design of our building's exterior, leading us to incorporate sloping windows.
Another aspect of the zoning resolution that had a notable effect on the outcome of our space was parking allowances. This determined how patients and visitors would transport themselves into and out of the space, as well as how the traffic on the surrounding streets would interact with the ACC. In a space used for medical purposes, every 400 SF of the zoning floor area requires one parking space; with the maximum number of parking spaces being 150 – that is unless the parking facility is on a wide street or one of several other determining factors.
In our case, the maximum amount of parking spaces can be increased to 225 cars. Because of this increase in parking spaces, there must be separate vehicle entrances and exits, which must have 25' between them and 10 reservoir spaces at the entrance. With this in mind, we designed an entrance/exit that spans the width of the building, with cars entering on the first floor, driving up to the second floor and going down to the first floor to exit on a different street from the entrance.
Sometimes however, designing 'as of right' is not a possibility. Such a challenge arose in Harlem for a 364‐bed facility (including renovations for a long-term acute care hospital and a new, adjacent skilled nursing facility occupying a single-zoning lot). To add to the complexity, since this project includes inpatient services, Certificate of Need approval was required from the New York State Department of Health. The certificate requires a certain number of beds which, due to the zoning regulation, would not be possible to achieve.
In order to proceed with the project, modifications to the zoning resolution were necessary. These included lot coverage and modifications to the setbacks and sky exposure plane requirements. This process is long and complicated with many agencies involved and review processes in place.
One such requirement was to prove that the addition of the facility would not negatively impact the surrounding neighborhood. For example, the surrounding infrastructure needs to be able to accommodate the additional traffic; the proposed building needs to blend harmoniously with the neighborhood and, the community benefits are greater than the disadvantages they may experience with the proposed facility.
Staying within complicated zoning parameters is challenging and intricate. It is important to triple-check code interpretations, even when zoning experts are involved, taking the expression 'measure twice, cut once' to a whole new level. Understanding the constraints and needs of a building early on is key in completing projects like our Ambulatory Care Center in Brooklyn and SNF/LTAC in Harlem.