As I was applying for college a few years ago, I realized I wasn't really sure what I wanted to do with my life. I knew I was interested in design and I enjoyed doing community service, so I decided to study interior design at Virginia Tech. During my junior year of college, I discovered healthcare design. It sparked my interest since it combines the technical and aesthetic aspects of interior design and architecture with the altruistic component of using design to positively impact people's lives.
Interning at Array Architects this summer (2014) has taught me that healthcare design is both rewarding and challenging. Unlike my previous internship which focused solely on residential design, working at a healthcare design firm taught me that well-designed hospitals and related facilities must go beyond aesthetics and also be practical, sustainable and code-compliant.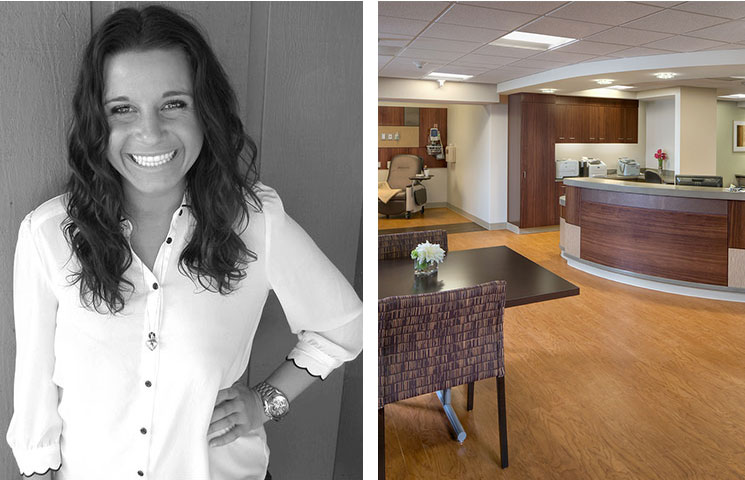 It was very uplifting to see tangible examples of how thoughtfully-designed healthcare facilities help people cope during some of their most difficult moments. One of the oncology hospitals I worked on this summer has a room devoted for volunteers and family members to knit hats for patients undergoing chemotherapy. I was inspired to see the impact designers can have on patients during some of the most difficult times of their lives. It was this aspect of community service that drove me into design and makes me want to pursue healthcare.
Along with developing my Revit skillset this summer, I gained a substantial amount of practical knowledge about textiles, manufacturers and sustainable materials that has already helped with developing my senior thesis. It was rewarding to apply skills I learned in school in a real-life setting. I am extremely grateful for the experience I had this summer and all of the people I had the pleasure of working with. Interning at Array has made me excited to graduate in this field and has made me confident in my decision to pursue a career in healthcare design.
Interested in more from Array's rising stars? Read Ryan Keszczyk's blog with his thoughts on picking a college, following his dream, and preparing for the Architect Registation Exam. Also, visit Array's career page to see what positions are available at the firm.
Lisa Singer, a senior this year at Virginia Tech, interned with Array during the summer of 2014. She worked in the Interiors Library organizing finish samples, detailed project drawings in Revit, assisted the Marketing Department with their collateral and brought a fresh perspective to the team as they finalized material selection for Array's upcoming office move. Lisa was an asset to the entire team.