Environments have the power to set our expectations, lift our spirits and inspire hope.
The design of the interior environment can positively affect the expectations of patients and their loved ones. To inspire confidence and reduce stress, the environments must be in sync with an organization's reputation, mission and core values. A well-conceived environment will positively influence employee service, attitudes and behaviors. Colors, textures, patterns, artwork and graphics must be carefully selected, well-coordinated and integrated into the overall design to resonate with patients, families and staff.
The National Endowment for the Arts and the Society for Arts In Healthcare brought together 40 experts in medicine, the arts, social services, media, business and government to develop a strategic plan for advancing cultural programming in healthcare. The strategic plan aimed to help raise awareness of the benefits of arts in healthcare, better document and disseminate research demonstrating its value, move toward a national funding base and develop adequate training to educate and train healthcare workers, administrators and planners.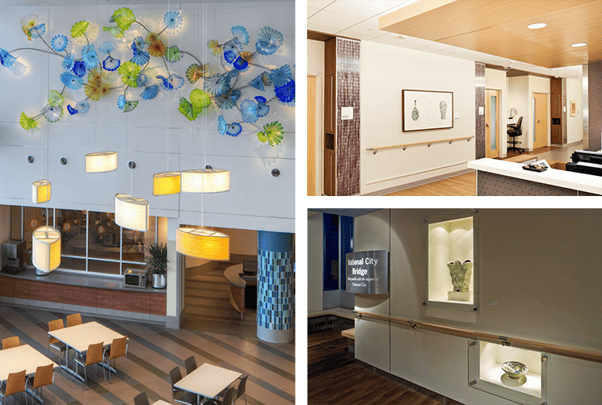 From their initial study conducted in 2004 and through subsequent updates, increasing numbers of clinicians and other professionals from the medical community are working side by side with designers and arts professionals in both healthcare and community settings; around the world the arts are emerging as an important and integral component of healthcare. In two recent surveys, nearly half of the healthcare institutions in the United States reported having arts in healthcare programming. The majority of these programs are in hospitals, with smaller percentages reported in long-term care and hospice/palliative care organizations.
Improving the patient's overall quality of life
Research demonstrates the benefits of the arts in healthcare in hospitals, nursing homes, senior centers, hospices and other locations within the community. Arts in healthcare programs and creative arts therapies have been applied to a vast array of health issues — from post-traumatic stress disorder to autism, mental health, chronic illnesses, Alzheimer's and dementia, neurological disorders and brain injuries, premature infants and physical disabilities—to improve patients' overall health outcomes, treatment compliance and quality of life.
New evidence is emerging that demonstrates these programs also have an economic benefit. Data shows that such programs result in patients requiring shorter hospital stays, less medication and having fewer complications — all of which translate to a reduction in healthcare costs. However, much of the research focused on the economic benefits of arts in healthcare is anecdote rich and data poor. It is hoped that future analysis of the economic benefits of arts in healthcare programs will advance policy conversations about using the arts to simultaneously reduce health costs and raise the quality of care.
Additionally, there is a rich and growing body of research connecting arts in healthcare programs to improved quality of care for patients, their families and even medical staff. Studies, such as The Society for Arts in Healthcare Field Report, have proven that integrating the arts into healthcare settings helps to cultivate a healing environment, support the physical, mental and emotional recovery of patients, communicate health and recovery information and foster a positive environment for caregivers that reduces stress and improves workplace satisfaction and employee retention.
Art as a tool to support the hospital's mission
Recognizing the healing qualities of art, University Hospitals in Cleveland Ohio created its art collection in 1988. The system's mission: "To Heal. To Teach. To Discover." came to the forefront during the art selection process for its new cancer center. The power of art was embraced as a positive distraction to lift spirits and inspire hope. Focus groups with patients and families were held to obtain input. Much of the art in the building carries nature themes, consistent with input and with the hospital's intention to focus on healing qualities of nature. Abstract art was also carefully selected and placed to provide opportunities for patients and visitors to engage in a very real and personal way and to stimulate imagination, escape and even whimsy. A testament to the power of art to heal, The Seidman Cancer Center features over 325 original pieces of art featuring local, national and international artists.
Editor's Note: To view "The Healing Power of Art" book and experience a sample of recent art installations on Array's healthcare projects, visit www.array-architects.com/design-books/the-healing-power-of-art/.
Read a related blog on Empathy Mapping at Seidman Cancer Center.