Co-authored by Lisa Lipschutz, a Principal & Senior Healthcare Planner with Array.
Most hospital campuses grow organically, and often become land-locked over time. With this growth, ancillary departments can run out of space for new equipment, supply storage and updated process workflows.

A top-ranked health system reached out to Array and St. Onge Company with this exact challenge. Our team collaborated with the Health System's Planning + Design Group to develop a high-level plan for an off-site facility to house select support services. We worked with Health System leadership to identify potential departments viable for off-site service relocation.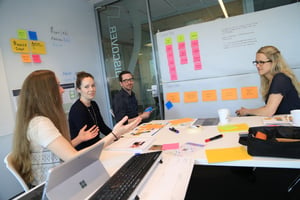 In order to finalize the departmental selections and determine department components to consider for off-site relocation, we conducted workshops that evaluated departmental activities, future work processes and synergies with the mindset of streamlining workflows, minimizing waste and creating efficiencies. These workshops provided employees and staff with the opportunity to gauge what they believed would be the best strategies for successful departmental operations and engagement of the work force at both an off-site service center and the Hospital's main campus. This new model of support service delivery is anticipated to yield greater operational efficiencies for the System and will positively influence the "patient and family first" mission of the Health System.
In the below case study, discover in more detail how we helped this highly-regarded Health System determine which departments might benefit from moving off-site, and how services left on-site can best take advantage of the vacated space.