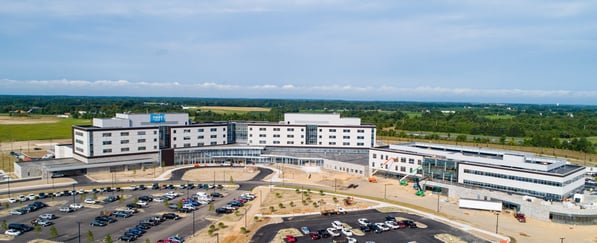 As the industry shifts to more collaborative project delivery methods, teams are looking for ways to lead more effective engagements. Major concerns include keeping construction costs down, reducing negative environmental impacts, keeping the schedule on track and ensuring consistent, high quality results. Prefabricating different parts of construction is one way to achieve these goals, and its use in healthcare is increasing. Headwall systems, MEP (Mechanical, Electrical & Plumbing) systems and exterior facades are a few construction elements for which prefabrication is being tried and tested. Let's explore the benefits of prefabrication, considerations to successfully deploying the technique and a few lessons learned in the field.
Prefabrication is a system of manufacturing and/or building parts for a project off-site. Healthcare projects that are candidates for prefabrication are those that tend to have similar layouts. Inspira Health's new 473,000 SF, 204 bed community hospital in Mullica Hill, New Jersey is a project made possible with prefabrication. Array teamed with construction manager Skanska USA and mechanical/electrical/plumbing engineers Leach Wallace in an Integrated Project Delivery (IPD) model to deliver the hospital. Due to the scale of the project, the team was looking for ways to maximize the regularity of parts of the building while maintaining construction schedule and cost. It was decided prefabrication could help meet those goals.
Perhaps the best example of prefab success in this project are the exterior façade panels. Working with Jersey Panel Corporation (JPC), Array designed much of the exterior skin to be prefabricated in JPC's shop. A total of 475 prefabricated panels (125 of which were mixed finishes) were installed by an eight-person work crew, taking 54 workdays over a four-month duration. A project of this scale with panels constructed on site would have taken a 30-person crew approximately 10 months just for the 125 mixed-finish panels alone. In total, prefabrication helped save 409 construction workdays, not to mention untold savings of insurance risk for a large labor force!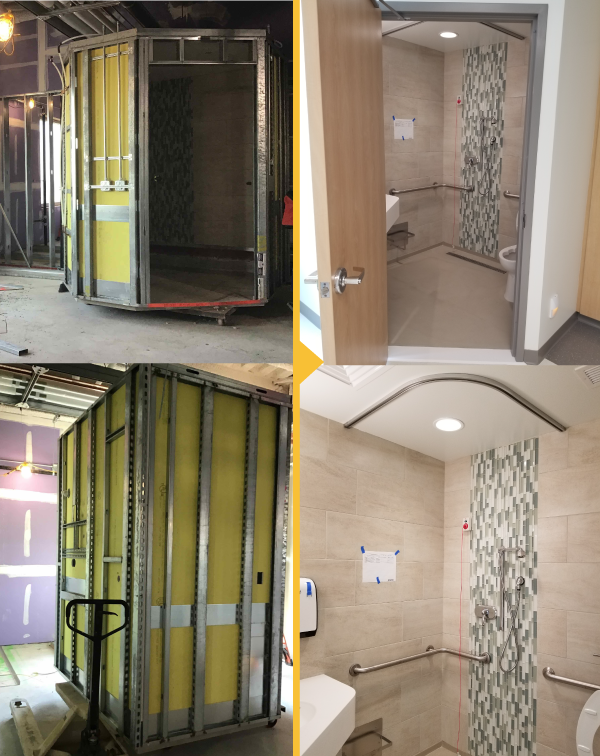 Our IPD team also used prefabrication for the patient bathrooms in this project. These were designed as PODs, or streamlined enclosures that can be manufactured off-site. Due to the repetitive nature of the patient toilet rooms, we felt using a POD system would lend itself to the efficiency of the project and align with the goals of IPD. Having the non-ADA patient toilet rooms manufactured at a different location lent itself to better and more consistent quality. One team could work on every POD instead of having multiple trades working within the space. This prevented errors and poor craftsmanship and allowed the team to work efficiently, making sure the walls, location of plumbing fixtures, tile layout, etc. matched the construction documents. These were repeated throughout three of the five floors. Each room was designed the same, with half of the rooms mirrored.
The process did present some challenges for the PODs. A last-minute production change led to some construction inconsistencies: some areas had misaligned depressions in the slab, the cores were not aligning with the plumbing fixtures, and the appropriate blocking details for sinks, grab bars, etc. was not coordinated. This led to some discrepancies in the size of the patient room, as well as additional time and money to resolve those issues.
Flooring also posed a challenge. From its initial concept, small tile flooring was specified; however, as part of the prefab process, it was determined that monolithic flooring should be used. Prefab monolithic floors have several qualities that are well suited to a healthcare setting. This includes a reduction of waste, quicker production (off-site), improved quality and cost control, and the elimination of grout joints, making the floors easier to maintain and clean. The change in the flooring type necessitated water testing, slip resistant testing and color selection. These considerations should have been part of design and construction documents prior to construction.
Once the construction inconsistencies were addressed and the monolithic flooring was tested, installation of the prefabricated PODs was efficient thanks to the expertise of project partners Skanska USA and Leach Wallace.
Benefits of prefab included quick install of the unit within the space, as well as quick connections to MEP infrastructure. The unit is its own support system, so the wall partitions are strong and can handle any additional weight attached to it, i.e. sink counters and grab bars. The PODs, in combination with the success of the prefabricated exterior façade panels, helped us lead a cost-conscious, efficient, and consistent project delivery.
In an age where large hospital systems are looking for the greatest-and-latest innovation and quicker speed to market, prefabricated systems are starting to become a major boon to healthcare construction. Architects need to become more educated on these systems, elements and manufacturers. A critical aspect of using prefabrication successfully is understanding what part of the project would benefit from it at the very start of the project. Having a game plan early helps alleviate issues during construction and benefits an IPD team later in the project, as the prefabricated unit helps save time and money. Array and our partners plan to continue deploying the POD concept, applying it to different aspects of design and construction throughout the project process. Prefabrication is still improving and is beginning to change our industry. If architects can embrace it, the culture of how we design will begin to shift.
Learn more about our approach to Inspira's Mullica Hill Hospital in this case study by our mid-Atlantic Regional Vice President Kent Doss.
Blog authored by Leah Gilbert, former project architect with Array.