In leading a design firm's business development initiatives, I closely follow healthcare delivery trends and how clients look to better serve their patients and communities, and how facilities can support these goals. Attending conferences and symposiums provides the opportunity to learn what trends came about from changes in the healthcare delivery landscape, and how a particular system's response to these changes influences their physical assets and generate the need for new or improved facilities. A common trend that gets the most attention at these events is the shift from inpatient space to outpatient facilities and the key drivers of the ambulatory care model.
Partnering with Deloitte since 2012, Array offers a forum for healthcare facility leaders around the nation to come together for an interactive discussion via telesuite technology provided by Deloitte (for more detailed information about these events, please click here). The New York City market found so much value in having their peers as sounding boards at these gatherings, that Array and Deloitte decided to offer a supplemental meeting, providing a more intimate setting where people are comfortable sharing their experiences and greatest challenges. In December 2014 and February 2015, the newly formed group gathered to tackle the popular subject matter mentioned above, ambulatory care.
The purpose of these meetings was for healthcare facility leaders and real estate directors to discuss key issues from both sides of the table, together with developers, property owners, real estate brokers, as well as architectural and mechanical designers. The goal of the first session in December 2014 was to scratch the surface a bit, discussing the current and future trends of ambulatory care and learn what is important to each stakeholder. This is what we heard from the well-rounded group:
CURRENT AND FUTURE STATE OF AMBULATORY
All facilities concurred they have a surge of ambulatory requirements to address currently and well into the future
Drivers are:

Outpatient space is vastly lower cost than inpatient
Patient preference is to stay out of hospitals
Affordable care and inpatient regulations
Decanting inpatient to outpatient
On-boarding MD groups increasing demand on ambulatory
REASONS FOR AMBULATORY
Partnering with medical groups
Single Payer Model is coming – pressure to live on Medicare/Medicaid rates
Fee for service model (current)
Get patients out of hospitals – lower cost, better recovery/patient experience
Expand ambulatory care network
Acquisition of physician practices
WHAT TYPES OF AMBULATORY SITES/FUNCTIONS ARE FACILITIES LOOKING FOR?
Full functioning ambulatory with OR's, imaging, pre-op, post-op & consulting/exam
Doctors clinic expansion
Article 28 space
Walk-in clinics
Outpatient hospital feeders
Complementary retail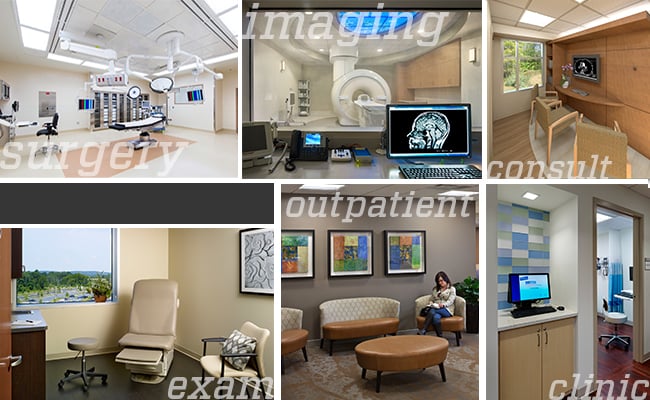 CHALLENGES
Speed to market

An emerging trend is to acquire, develop and open ambulatory facilities as quickly as possible
Finding a property or location that can accommodate the needs of an ambulatory environment
The need to get it up and running quickly
Competition is tough – systems are crossing into different markets
The CON process when needed is +/- 9 months to approval and can only be submitted at completion of schematic design.



Adjusting from a hospital-centric approach to an ambulatory approach

State guidelines have not changed, coming from a hospital centric point of view
DOH is overlaying inpatient criteria to outpatient space; clarifications are needed
The users' perspective is still inpatient-based, which needs to change
A highly regulated environment
Different business models: institutional vs. retail
Inpatient vs. outpatient processes need to be understood, i.e. sterile processing



On-boarding physician groups

There are different relationships with different doctors/doctor groups who don't become employees
Often this leads to a hybrid space that is part hospital (usually admin), part tenants, and part sublease. How is this managed?



Constrained Infrastructure

Need to put infrastructure into spaces not originally made for healthcare - multi-tenant buildings
Generator hookup requirements
Many retail sites not set up for ambulatory



Ensure hospital leaders understand the facility needs required for an outpatient building

Often they look to commercial design firms who don't know healthcare
Many contractors are not versed in healthcare construction
Speed to market is their focus, and other issues aren't taken into consideration



Communication breakdown within Facilities

C-Suite makes decisions without input from Facility Leaders



Poor state of current hospital stock
Operational metrics are affected by building systems

As the session came to a close, the group was left wanting more. Everyone felt as though we just scratched the surface and that there was much more to be uncovered. A follow-up survey was then sent out to measure the participants' views on how well the session met their expectations, and then asked the question of how often we should get together as a group. An overwhelming number of responders wanted to continue the ambulatory care site selection dialogue, and suggested that we should meet on a quarterly basis. A second roundtable was then scheduled for February 2015. Stay tuned for further insight and the outcomes of February's discussion.


Blog authored by Jennifer O'Donnell, a former VP, Business Development at Array.