My colleague, Leah Brown, discussed the gratifying experience of being an NCDIQ exam grader and being responsible for upholding interior design standards in her blog, Maintaining Interior Design Standards – NCIDQ Exam Grader Reflections. My post will discuss why those standards are important and how they distinguish trained interior designers from those without formal education as well as interior decorators who call themselves interior designers.
The terms "interior design" and "interior decoration" are often used interchangeably when they are, in reality, quite different. The Council for Interior Design Qualification defines interior design as "the art and science of understanding people's behavior to create functional spaces within a building," while interior decoration "is the furnishing or adorning of a space with fashionable or beautiful things." An interior designer synthesizes research, analysis and knowledge with the creative process to satisfy the client's needs[i].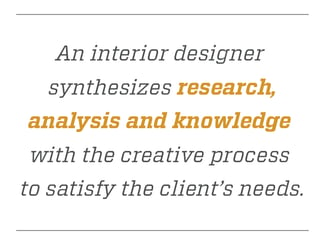 Interior Design legislation—legal recognition achieved through licensing, registration and certification—helps establish and maintain standards to ensure public health, safety and welfare. This is especially important for healthcare interior designers, who are responsible for making decisions that will continually affect public safety and welfare. While creating aesthetically pleasing designs, healthcare interior designers understand and apply systems integration, life safety, fire codes, etc. They can identify the fire rating of a door and its frame; know which surface material is best for infection control; and are knowledgeable of the various needs of healthcare systems.
Though the amount of time spent learning, training and taking exams are similar for architects and interior designers, only architects are distinguished with a license in every state. According to the National Council of Architectural Registration Boards[ii], "To be an architect, you need to be licensed. Architects are responsible for protecting the public health, safety, and welfare…Being licensed matters—especially for the people who live, work, and play in the buildings that architects create." Once an architect is licensed, they are required to meet CEU (Continuing Education Unit) requirements to renew that license. Interior design legislation incorporates similar guidelines requiring an interior designer to develop their knowledge and update their professional skills.
However, only 28 states to date have enacted Interior Design Laws and the requirements, rights and responsibilities vary among them.[iii] For instance, Washington, D.C. and Puerto Rico both recognize NCIDQ certified designers as "Interior Designers" who can sign, seal and permit designs independent of architects or engineers, but their continuing education requirements differ. Moreover, a "Registered Interior Designer" in Louisiana – an NCIDQ certified designer with 0.5 CEUs per year - can sign, seal and permit designs independent of architects or engineers, but if they work on a project in the neighboring state of Arkansas, they are considered a "Registered Interior Designer with Professional State Recognition" who is unable to sign, seal or permit designs.
A qualified interior designer is also responsible for protecting the public and is a key asset to design and construction teams. They provide unique expertise in complying with building codes, sustainability and accessibility requirements. Education and experience allow interior designers to create safe and healthy environments. To do this, an interior designer must have a thorough understanding of building and fire codes, universal accessibility requirements, environmental implications and the effect of the interior environment on users[iv]. While building and fire codes have an obvious impact on public safety, environmental and interior factors are less commonly understood. An understanding of environmental implications allows interior designers to eliminate dangerous VOCs (Volatile Organic Compounds), create energy efficient spaces, reduce life cycle costs and utilize environmentally safe products and processes.
An interior designer must also understand the intricate relationship between the spaces they design and the users of those spaces. This requires knowledge of ergonomics, ADA guidelines, slip and fall prevention and psychological impact. Moreover, an interior designer may specialize in a specific field. A healthcare designer has knowledge, skills and experience specifically related to acute care, ambulatory/outpatient, long-term care, senior living and other medical/support services facilities.
This disparity between architects and interior designers, as well as varied licensing requirements among states, puts a strain on firms and clients alike. For instance, Array's New York and Texas interior designers must, according to state law, have their certification before they are able to sign and seal their designs. A Pennsylvania designer, if working on designs for a New York or Texas project, must have board certification within that state to be able to sign and seal a design. Certification also affects an interior designer's eligibility to independently complete certain projects. The Federal Government requires interior projects be completed by a Certified Interior Designer, regardless of state legislation, if an architect or engineer is not part of the project team[v].
When tasked with assembling a design team, how can hospital administrators, facility directors and project managers be sure they have the best teams for the job? When selecting architects, the client can simply look for board certification; regardless of state or jurisdiction, a healthcare architect will hold an RA (certification. Interior designers, however, may not be as easy to select. While highly-specialized healthcare interior designers are , healthcare-specific designers who do not have a minimum of five years' experience or who have not yet completed the AAHID examination are more difficult to select from the throng of designers. Interior Design legislation will aid in the selection process by providing clients with board-certified interior designers who have met all standard requirements.
Protecting and enhancing public health, safety and welfare is an integral role of a professional interior designer. By creating legislation to standardize and uphold the qualifications of this profession, states are ensuring public health, safety and welfare, as well as creating opportunities for design professionals to create functional, aesthetically pleasing solutions that enhance the quality of life.
[i] CIDQ. "Differences Between Interior Design & Decorating." NCIDQ Exam. Web. 10 Jan. 2018.
[ii] NCARB. "NCARB Licensure Basics." NCARB. Web. 10 Jan. 2017.
[iii] CIDQ. "State Licensing Regulations." CIDQ. Web. 11 Jan. 2017.
[iv] IDLCPA. "10 Ways Interior Designers Save Lives." IDLCPA. Web. 11 Jan. 2017.
[v] Erika Templeton. "Speaking Out on Interior Design Licensure." IDLCPA. Web. 11 Jan. 017