Recently I had the opportunity to serve on the National Grading Panel for the Council for Interior Design Qualification (NCIDQ) Spring 2014 Grading Session.
The Exam
Passing the NCIDQ exam distinguishes its successful candidates as trained interior designers versus those without formal education or interior decorators who call themselves interior designers, since, unlike architecture, many states still do not have legislation requiring interior designers to be licensed or titled.
NCIDQ-Certified designers must pass the NCIDQ Examination, which consists of three parts: two multiple-choice sections and a practicum section.
Each multiple-choice section is computer-graded, with scores reported on a scale from 200 (zero correct) to 800 (all correct) and a 500-point minimum passing score.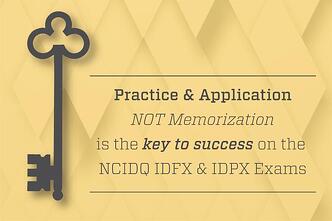 Once designers graduate with their degree, they can choose to apply to take the first multiple-choice section, the Interior Design Fundamentals Exam (IDFX). Though designers have the option to complete up to 1,760 hours of work experience, this is not necessary for the first exam.
After designers pass the IDFX, they must complete 3,520 hours of work experience before they can apply for the remaining two sections of the exam: the Interior Design Professional Exam (IDPX) and the Practicum exam. Designers may also choose to wait to complete all three sections until they have earned a degree and completed all of the required work experience.
The IDPX, the second multiple-choice section, tests candidates' knowledge and skill in the areas of Building Systems, Codes, Professional Practice and Project Coordination.
The drawing practicum tests candidates' knowledge and competency in seven areas of the field: Space Planning; Lighting Design; Egress; Life Safety; Restroom Design; Millwork and Systems Integration.
Two interior design professionals independently grade each exam exercise of the drawing practicum. Applying professional judgment and established criteria from the rigorous grader-training program, graders evaluate the entire solution to determine whether a candidate demonstrated competence in the tested area. A grading coordinator is available to resolve any grading disagreements by providing a 3rd score as necessary.
Grader Training
All NCIDQ Examination graders are volunteers and are required to be active NCIDQ Certificate holders. I earned my certificate in April 2013. During the course of my exam preparation, I worked at Array full-time. Having my colleagues, both senior and executive level NCIDQ-certified designers assisting me with exam preparation was reassuring. Three designers wrote me recommendations, which are required to apply to take the exam, and they all reinforced the importance of becoming NCIDQ certified.
Since the exam is meant to prepare interior designers for the every-day profession, the NCIDQ sends questionnaires, meant to determine qualified graders, to certification holders. Qualifiers are then emailed a grader volunteer request. Passing the quetionnaire re-affirmed for me my passion for the field.
Twice a year, volunteer graders throughout North America are brought together for training and grading. The training consists of a presentation, an overview of the exam content and learning grading criteria. To ensure fairness and objectivity during the grading process, both candidates and graders remain anonymous.
Reflections
I enjoyed being on the other side of the exam. It was a rewarding experience to have designers from all over the country grading the exams of our peers to help raise the standards of our profession.
Assisting the NCIDQ in its efforts to make the exam transparent and uphold the high standards for exam and grading fairness was empowering. During the grading process, you see designers who want to advance their career; however, you see some areas where they need more training and/or experience.
I believe I learned 30% of my design knowledge in school and the other 70% on the job. You can see on paper that the candidates have the knowledge, but the practicum quickly reveals their weaknesses. During the Systems Integration exercise, candidates are given a ceiling plan, a floor plan and MEP specifications. They need to be able to recognize system clashes. If they overlook those clashes, further study, exposure and experience are clearly required. It is paramount that candidates' competency be judged fairly. The growth and standards of the design profession must be upheld.
As a grader, I was responsible for upholding the standards and determining which candidates were qualified. Ensuring public health, safety and welfare is an integral role of a certified designer, and as such, it was a task I, and my fellow graders, did not take lightly. It was gratifying to participate in the facilitation of such a creditable certification.