Renovating an operational hospital takes a team of many specialists, including those dedicated to assuring no airborne or other particulates find their way into patient spaces. Infection Control Risk Assessments (ICRA) must be conducted for every project where patients are adjacent to the construction area because construction dust could carry fungal spores. Immuno-compromised patients can be susceptible to contracting aspergillosis, a deadly strain of pneumonia, from these spores. Renovation can also reveal mold within walls, which must be mitigated to keep those allergic and immune-suppressed patients safe.
An ICRA plan and the level of precautions required are outlined by project type. The matrices below describe in detail the combination of "type" of disruption the renovation will be and the risk level of patients in adjacent spaces. These two factors then determine the "class" of precautions the contractorsare required to follow. It might be as simple as puttinga ceiling tile back after an above-ceiling inspection or as complex as entering an anteroom to be HEPA vacuumed prior to entering the jobsite.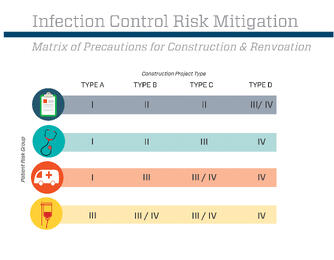 Coordination with the hospital's occupational safety or infection control departments is a priority. Each facility typically has specific, proprietary guidelines that outline acceptable measures for contractors to take while demolishing and rebuilding spaces near occupied patient areas. Depending on the type of construction and infrastructure being affected, the measures may include fire-retardant plastic sheeting, portable dust containment systems, ductwork fungicides and pipe capping.
The IRCA performance requirements are detailed within the specification documentation the project's architect provides to the contractor prior to bidding. These requirements, which have been fully vetted with the client, incorporate the hospital's specific preferences.
The contractor will be expected to submit a plan on how the sub-contractors will be expected to move demolished as well as new materials into and out of the site. The control of hazardous materials, such as asbestos and mold, and certain construction methods, such as soldering and floor coring, needs to be outlined and coordinated properly so dangers and disruptions are minimized.
Unoccupied renovation spaces also require ICRA and hazmat measures. The lengths on-site construction and design team members must go to are also outlined at a similar pre-construction session with all disciplines, including the owner, represented.
Blog authored by Joe Garrity, Joe was a principal with Array for over 25 years.