I spend my time on site photographing mistakes. Not really, but that's how I'm perceived, since much of my time walking through the construction site is spent observing the work-in-progress, and photo-documenting places where it deviates from Array's construction documents or from best practice. Somebody's got to do it. It's interesting to take stock of where that effort stands today, especially compared to where it was 25 years ago when I did my first construction site walk-through.
My first construction administration project was for a Laboratory building at UCLA, and I still remember the convolutions we went through with paper processing of submittals, especially RFIs, field reports and punch lists. A large project (150,000 SF), large team (including an associated architect, as at Zucker), and including team members from Philadelphia, Boston, Los Angeles and St. Louis.
The Zucker Behavioral Health Pavilion is an ahead-of-the-art, 115-bed, 140,000 SF, $76 million dollar Inpatient Psychiatric Facility at Northwell Health's Zucker Hillside Campus in western Queens. Design commenced in 2008, and patients were relocated from three obsolete cottages to the new facility in a carefully planned move in January 2013. For a description of the design and planning process, see "Creating Flexibility and Durability for Behavioral Health." This article deals with Construction Administration specifically with the mechanics of using particular software in the process.
On the Zucker project, emerging technology such as Newforma was used for Submittals and RFI processing, documents transmittals, and as a repository of latest Drawing Sets. Vela (which was bought by Autodesk during the course of the project, and was re-named BIM 360) was used for punchlisting. In combination, these two programs provided excellent functionality in recording and communicating when items commenced, were processed, and were closed, and generated easily trackable databases that enabled much more detailed analysis and understanding of information than could occur without the software.
Newforma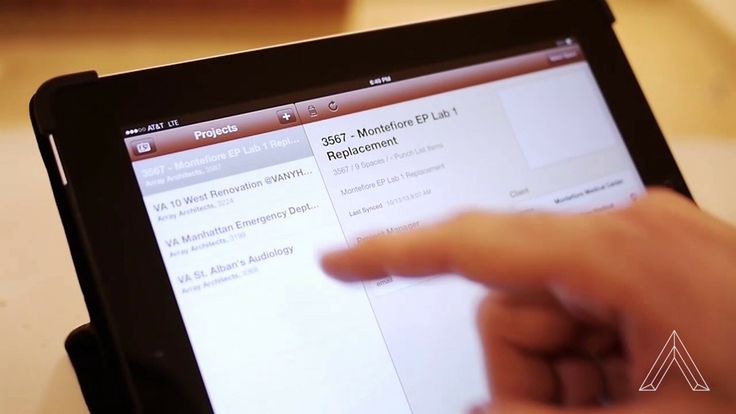 All team members used Newforma for the processing of submittals and RFIs during the two-year construction phase. I make this point because on subsequent projects, either contractors or consultants came to the project with their own software, which, while able to be used with Newforma, created an extra layer of effort/time in "transitioning" between them that would not be needed if the same software were used across the board. For submittals, the contractor submitted to Array in Newforma, and Array then processed the submittal as required, either to in-office team members for review, or to consultants who reviewed per their respective disciplines (Structural, Mechanical, etc.). One of the efficiencies gained in doing it this way is that significant time is saved by NOT having to transmit large rolls of drawings or other document sets via courier or overnight delivery. Weeks were saved by doing these transmittals electronically.
In the distribution process, review times are set for both internal and external review, adhering generally to the standard 2-week turnaround time, but modified as required. Larger, more complex submittals, such as steel framing, millwork and hardware, were understood to need more time. Less complicated ones, or more urgent ones, were frequently returned in less than two weeks to offset the more time-consuming ones, and to generally keep the process moving as quickly as possible. At weekly job meetings, a log produced by the contractor through Newforma listed outstanding submittals, and the contractor typically prioritized these items, which was a useful filter that assured that staffing/resources were being utilized most efficiently. The technology allows for email "reminders" to be sent to reviewing parties, another time-saving feature that enabled such notifications to be generated to interested parties in a fraction of the time doing it by phone or other medium might entail, with the added bonus of keeping track of when such reminders were sent, by and to whom, etc.
The actual review process was also facilitated by the technology, for example in the digital marking up of documents (versus hand annotating, then scanning), and also with the ability to digitally stamp them. Again, salient aspects of each submittal were duly recorded, and entered into the overall database, where the information could be further analyzed, tracked or filtered as needed.
Once the mark ups and stamping were completed, the digital return of the submittal was again an easy "push of a button" effort, with all parties required or requested to be copied included in the distribution. If additional information was discovered (corrections, additional comments from new reviewers, etc.), the submittal could be easily re-opened, additional comments added and the submittal re-returned (though of course no one plans for such re-vision, this inevitably happens in most construction projects, and timeliness in processing such revisions is critical). Being able to save time enabled these occasional revisions to be processed quickly and efficiently, again improving the process significantly.
RFI processing was similar to submittals processing – receipt, distribution, review, return, with each step carefully and accurately tracked. One key difference between submittal and RFI processing is that the RFIs are much simpler/smaller files, and their review typically required less time, which was reflected in the shorter duration given for their response (5 days). Take a personal tour of Newforma with two Array designers who recorded a recent success story by clicking the link below.

VELA / BIM 360
As Substantial Completion approached, a punchlisting plan was developed, which involved a couple of seminars and conference calls describing how the Vela software would be used. Even prior to punchlisting, Array had become familiar with the software, and was using some of its tools and apps for weekly site visits, especially the Drawings database. Needless to say, the ability to have all project drawings (almost 800 sheets!) conveniently available to you as you walk the job is a godsend, and the iPad became referred to as that " magic pad" since we frequently looked up drawings on the spot when discussing particular configurations/details/spaces with the Contractor and his subs. And again, it was helpful that some of our Consultants and the General Contractor had some familiarity with the software. In particular, the contractor's familiarity with it resulted in an efficient and time-saving back-and-forth in which items/deficiencies recorded by Architect were frequently quickly or immediately responded to, and further actions similarly recorded.
The necessity of breaking the building into separate TCO pieces, to correspond to Owner's move-in plans, was also facilitated by the filtering capability of Vela. Separate punch lists were able to be easily tailored exactly to corresponding parts of the building, and these lists, comprising between 50 and 100 pages, were attached to Certificates of Substantial Completion, on which the TCOs were based.
One aspect of the punch list is that it was a "living", constantly evolving document, being added to in bits and pieces, or in large chunks earlier in the process, then chipped away or being reduced in large chunks as the process wound down. Array maintained the database, though both Owner and Consultants contributed significant portions, particularly MEP items by the Project Engineer, WSP/Flack and Kurtz. Reports and logs are easily generated, and we would typically bring the latest to the weekly meeting, though more frequent updates/printings were frequently requested and published.
One aspect of Vela that was not utilized on Zucker, but which is foreseen to be a useful tool, is the ability to make it more related to the Revit model, by locating particular issues/comments on the model graphically. And this is consistent with where I believe the industry is headed – away from an almost fetishistic emphasis on particular documents at certain points of time (though this will always be a part of the process/project for legal/accountability reasons).
One final note about the use of these two programs during Construction Administration is that both programs now offer more functionality that what we used them for on Zucker. Newforma in particular has developed its own punchlisting app, and on a few projects I'm working on currently, there is more of an across the board connection between submittals, RFIs, punch lists, transmittals, etc. I believe the use of only one software on particular projects makes much sense, especially as the trend seems to be for all project related information to ultimately be included or linked with the model of the bulding. Imagine that a facility manager ten years after move-in, discovers a leak in a room, and is able to call up not only the Drawings of that space, but a history of meetings that touched on it, submittals for equipment installed there, and even a record of progress during construction (the inability of complete or proper access to a valve, e.g. might result in that valve not being properly turned off or shut down, which could be the reason for the observed leak).
To sum, and going back to the example noted at the beginning of this article, since the late 1980s when Field Reports, punch lists, submittals and RFIs were all on paper, laboriously hand annotated, copied, distributed and stored, we look at today's process (and it's much the same information, just newly formatted) and see the ascendancy of information over documents. Because of the innate capability of software such as Newforma and Vela to sort, filter, prioritize, list or otherwise categorize information, much greater understanding and ability to communicate is afforded, a trend which Array has been at the forefront of, and which we see as continuing as both the software and the profession evolve. This is a testament to Array's culture of continous improvement!