Array's first wellness week and Movember initiatives have concluded, providing many takeaways for staff across our eight offices. Activities like mocktail happy hours, steps challenges and beard-growing competitions encouraged camaraderie. While wellness week focused its education sessions on "health in the built environment" rather than health and wellness overall, both efforts brought staff together for mindful breaks, allowing committee members to share, via our intranet as well as social media, health tips, recipes and links to informational websites geared toward health and wellness.
Since we all spend our time designing hospital spaces, these in-house initiatives allowed us to reflect a bit on what our clients endeavor to achieve each day—healthier communities with an eye toward preventive care—and the impact our work has on helping them succeed in achieving healthier communities.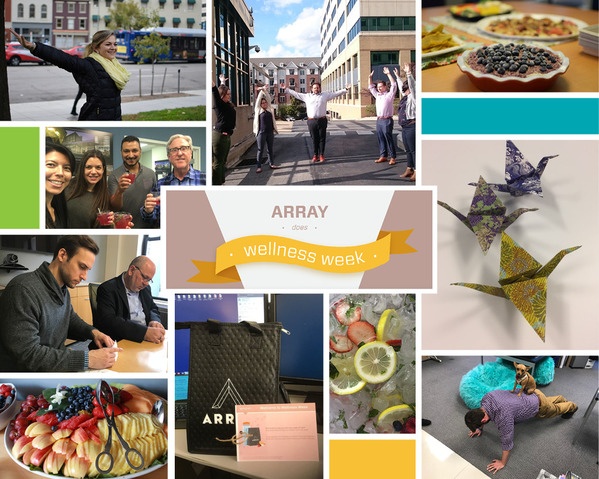 Representatives from each office acted as stewards for our healthy initiatives, and plans are already in the works for future events. Array's wellness week sponsors—Teknion, Lutron, Herman Miller, Healthy Buildings, and Humanscale—were integral in making the week all that it was. Each sponsor was a like-minded affiliate who is doing exceptional work in and around wellness in the built environment. For wellness week, we utilized our intranet to share wellness apps for those interested in tracking their steps and water consumption. We solicited recipes for a healthy happy hour and encouraged each other to stop each afternoon for a stretch session.
During the month-long focus on men's health in November, each day's intranet posts included a health statistic, a photo of a bearded celebrity, and a preventative measure everyone could take to better their health. Each week the number of stairs to climb and push-ups to do increased…so it behooved those participating to keep up with the challenges!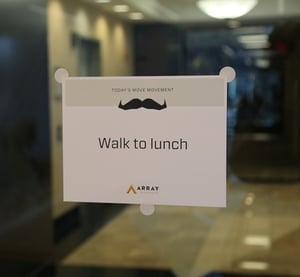 No firm-wide initiative at Array is complete without some challenges, winners and prizes. From steps taken and H2O consumed to best hipster or most philosophical beard, participants took home cookbooks and gift cards.
All staff received a lunch bag filled with healthy snacks and Array offered rebates to anyone purchasing wearable fitness trackers during the week leading up to wellness week. We thought the fall, with all offices enjoying pleasant weather, was the perfect time to kick-off our healthy initiatives. Rolling right into Movember was perfect timing to turn our attention to the health of the men in our lives – at home and at the office. One co-worker told me she mentioned the initiative to her husband, which convinced him to schedule a long overdue physical. Just that one outcome makes the planning and organizing very much worth the effort!
No modern office event is complete without spreading the word on social networks. We had a team of committee members responsible for tweeting a 'did you know' health fact the week leading up to wellness week, as well as a team who created LinkedIn posts to share our story with our followers and professional network. We utilized Pinterest to share recipes and infographics with exercise tips. Many male staff took advantage of no-shave Movember, and each week various offices took the opportunity to post updates of their office's progress on our intranet. The final day of November was dedicated to photos from the 'unique shaves challenge,' where our leader-in-beard, Noah Tolson, suggested we have one final contest to see who shaved the most unique pattern into their beard. A photo survey ensued and finalists in five categories were elected by a firm-wide survey.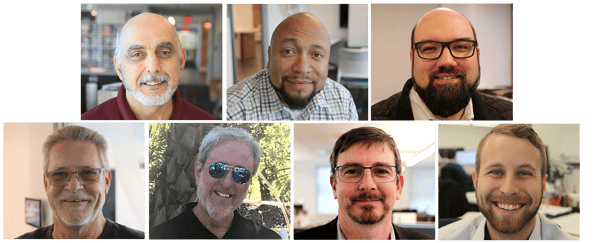 As a fun departure from the everyday, I can attest to the enthusiasm everyone brought to our inaugural events and look forward to planning new and interesting ways to bring our growing firm together, if even virtually, to participate in more healthy initiatives.