Relaxing. Soothing. Welcoming. These words are more often used to describe an ideal home than they are a hospital. However, when you are tasked with designing a long-term healthcare facility, with stays of up to five to 10 years, incorporating elements of the home is essential to make residents more comfortable – comfort being a vital part of their long-term care.
This is where art comes in. It is embedded in healthcare facilities across the nation, and for good reason: incorporating positive, visual distractions can mitigate pain and anxiety, giving an environment a healing quality. Therefore, it was only a matter of time before my work as a healthcare architect would include an enhancing our designs with curated art. This opportunity came when Array was designing the Henry J. Carter Specialty Hospital and Nursing Facility in New York, NY, during which my job as an architect transformed to art curator.
In designing skilled nursing and long-term care facilities such as the Henry J. Carter hospital, art also gives the space originality and personality, turning the hospital from a banal space to a place of significance, from a place of temperance to a place of solidity. It softens the harsh reality of the hospital to create an environment that soothes and welcomes. At Henry J. Carter, the art is also used in concert with bold colors to serve as important visual markers and wayfinding for residents, to offer them a level of independence within the facility.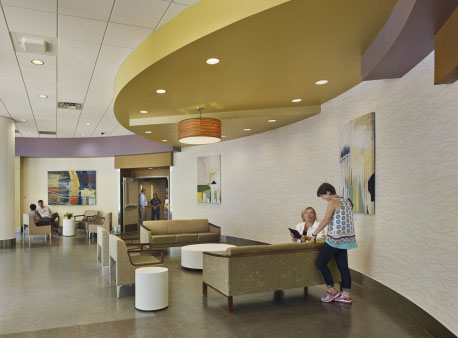 Array spent significant time on the interior details, such as the selection of furniture, while designing the facilities at Henry J. Carter – comprising an entire city block in Harlem – to create communal and inviting areas. The key was to select furniture with warm wood accents, interesting textiles and vibrant color that play an intentional role in the overall design. We chose artwork that was vibrant in color and pattern to complement the furniture, as well as to help soothe the residents and provide positive distractions.
We worked closely with the NYC Health and Hospitals Corporation Artwork Committee and an independent art consultant, Novo Arts, to curate an art theme. The theme we chose, urban park, is highly site-specific, meant to remind residents that though they are residents in a hospital, they are still residents of NYC. We selected artwork that would reinforce this sense of place within the city. We accomplished this by mixing images of NYC's cultural and natural landmarks with abstract art, collages and painting.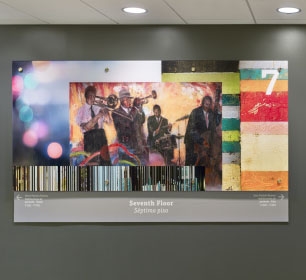 The urban park theme was also infused into signage elements throughout the hospital. A mix of photos, paintings and abstract images from art consultant, Studio EL, were used to create original art pieces that accompanied the directories at each elevator lobby. On the third floor, the red lights from Harlem's famous Apollo Theater, just a few blocks across town, sit on top of an abstract painting and a black and white close up photo of the city's architecture.
The seventh floor opens to a painting of jazz musicians with a blurred photo of car lights in the night trailing behind them. Henry J. Carter is filled with these pieces, each stop on the elevator and moments along the corridor opening up to slices of New York. For residents, it reminds them that they are still part of the city. They are residents here. They belong.
Blog contributed by Lauren DeMattia, formerly with Array Architects.