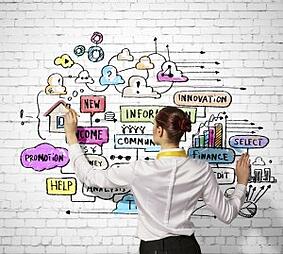 Learning from and sharing knowledge with other industry professionals, even the competition, is what makes us all better at what we do.
Focusing solely on the healthcare market, many methodologies that Array Architects employ today are those that have proven to be successful and are positively impacting how our hospital clients deliver healthcare today. Using an integrated, three-pronged approach of combining scientific research/evidence with clinical expertise and individual patient and caregiver experiences, the medical community is in a position to continuously build upon their knowledge base and better care for their patients.
Furthermore, lessons learned through their involvement helps the clinicians to overcome similar challenges in the future and provide guidance for others who may face that same situation down the line. This form of knowledge sharing exists across the continuum of care. With people willing to share their wisdom and insight effectively, we can work towards the common goal of improving societal health.
The design industry often applies that same integrated approach of infusing research into all aspects of how we plan and design facilities to respond to the appropriate needs of our clients, hence evidence-based-design, but what's also becoming more prevalent is how we can share our knowledge not only with our internal colleagues and clients, but also with our counterparts and peers within the design community as a whole. We are all looking to accomplish the same goals, and fortunately many forums exist to provide education and networking opportunities to keep us all well-informed.
Organizations such as The Advisory Board Company exist to provide guidance and act as a conduit for healthcare organizations and those serving them, to share best practices and collectively as a group, find solutions to today's healthcare challenges. Improved healthcare delivery affects each and every one of us, so having educational venues and "think tanks," as the Advisory Board is often referred to, allows us to analyze relevant information and interpret it in a way that best coincides with our client's priorities.
The Center for Health Design is another group that fosters collaboration and encourages members to contribute to their mission of "transforming healthcare environments for a healthier, safer world through design research, education and advocacy." A focus of this organization is applying evidence-based design concepts that will ultimately achieve the best possible patient outcomes through the built environment. Healthcare Design Magazine and the Healthcare Design Conference are two additional initiatives that came about to supplement their ambitions to link healthcare and design professionals together in their quest to improve healthcare settings.
Other membership groups that are not sector specific are also valuable in enhancing our business. The Society for Marketing Professional Services (SMPS) is an example of an association that offers many opportunities for their members to learn and become well versed in the professional services world. Having an outlet where one can ask questions of those in a similar capacity is invaluable to any marketer and/or business developer. Representing firms and companies who are responsible for the physical environment, these professionals and their exchange of knowledge – even amongst friendly competition – can only improve the communities we all live in.
Learning from one another and sharing ideas and best practices helps Array Architects to be the knowledge-based firm that we are. Breaking down barriers on the way to process improvement and design that responds to today's challenges is often a difficult task, but I sure am glad that we're not doing it alone!
Blog authored by Jennifer O'Donnell, a former VP, Business Development at Array.