Many of us will need to evaluate senior care for a loved one at some point in our adult lives. We also may need there to be a behavioral health component as part of that care model. My intuition of what contributes to a healing environment for this diverse population was verified during recent visioning sessions with a community hospital whose leadership decided to pursue an expansion of their senior behavioral health unit.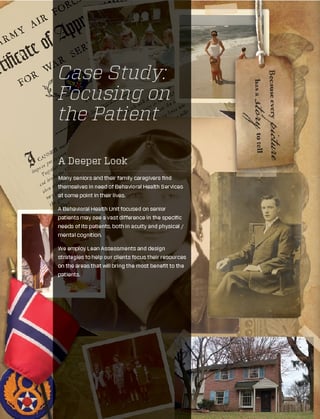 By evaluating three factors, we worked with the hospital's users to dissect the patient experience through the lens of: people, process and place. The guiding principles that arose from us focusing on these topics led us to link the hospital's core patient care values with the optimal patient experience.
One of my key takeaways was that concentrating on both the patient and staff spaces led to some of the most important design decisions. A dedicated staff always has the patient top-of-mind, as designers we were able to also positively affect the staff-only spaces. In a high-stress/high-skill environmental such as behavioral health, the effort to enhance staff spaces does not go unnoticed. Studies have shown this can contribute to higher retention rates and better staff satisfaction scores.
Promoting healing through interior design is a concept that is gaining mainstream acceptance. In addition to the below case study which details the visioning sessions, I will blog again on the project's progress and outcomes.