An ever-evolving and continuously improving firm needs to take stock of its own spaces just as it recommends it clients do. Three years ago, we moved from King of Prussia to Conshohocken – both Philadelphia suburbs. The new Array Architects location, renovated in summer/fall 2014 for a late October 2014 move-in, included flexible, multi-functional communal spaces of various sizes, accommodating from six to 30 people as well as two talk rooms, comfortable for a few people at a time to hold a meeting. All spaces were equipped with screens, network connections and phones. In the ensuing three+ years, staff has grown by 50% and we often host meetings with staff from other offices, clients, partners and industry partners and can swell to 100+ people on any given day. Rapid product testing, education sessions and the like leverage our built-in technology as we work seamlessly across offices. Expansions within each department – from accounting to marketing to the design studio – have made space a premium and the leadership responsible for the layout has made it a priority to keep huddle space and break areas intact.
Our continued business success and expansion into related business sectors has dovetailed perfectly into additional space becoming available on our floor. By expanding into the northeast corner of the floor, we'll now occupy the entire floor. We plan to once again use visioning and data collection to ensure staff have appropriate space for meetings, collaboration and focus.
Colleague Kathryn Mangapit and I spent two weeks surveying our current meeting spaces on an hourly basis, observing and noting which rooms were occupied, by how many people, the technology used and what flexible configurations were used. The data collected was sorted and analyzed for our studio leadership to use as a tool when determining how to best configure our expansion space.
On our utilization study walks, we found the large conference rooms were utilized most frequently, and for the longest duration. This office hosts many Value Stream Mapping events each quarter, and these meetings often last three days with a broad representation from across our office locations. Our conference rooms each have glass writing surfaces which promote visual mapping. We found that the smaller one and two-person rooms were used consistently, but typically for shorter time slots. Prior to the two-week survey, we also installed large post-it pads in our conference and hoteling spaces and requested users note their plus delta impressions of the spaces.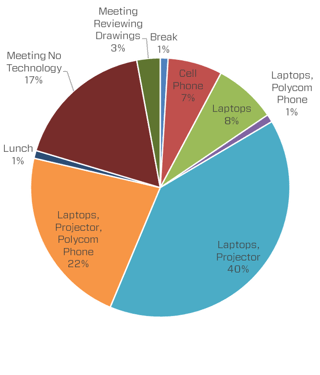 Our design staff takes great pride in being able to respond to user feedback, just as they do for our healthcare clients with each project we undertake. Four years ago, the team conducted vision and empathy mapping and prioritization exercises with staff as they designed the office. Staff requests such as sit-to-stand desks, huddle zones, flexible seating options and a family-style farm table in the lunch room were all accommodated. Visitors and staff alike continue to respond positively to the modern and engaging space.
I look forward to what the team will design for our expansion space, slated to be move-in ready mid-2018. We'll be sure to post before, during and after photos on social media. Make sure to follow the hashtags #Arrayexpands and #Designmatters to watch our progress.
For more information on the firm's lean training, which I took in advance of this surveying effort, click the link below.
Blog authored by Dannielle Raiken, a former Array employee.