Often, when a client is moving a physician group to new space, we, as designers, need to move very quickly to have the desired space move-in ready so there is no disruption of patient services. I recently worked on an accelerated design and construction project to ensure a busy pediatric care practice did not experience any downtime. The building identified by the client, previously a grocery store, was unoccupied and dilapidated when we embarked on creating a warm, modern physician practice space. The site was desirable for its proximity to the patient base, for its expansion potential and its storefront onto a busy street.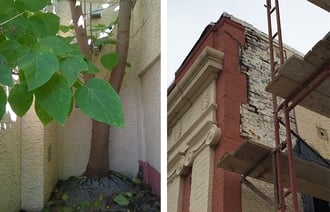 During our initial walk-through, it was evident that this would be more than a typical renovation. This building would need a lot of infrastructure repairs to make it suitable. From covering a large skylight to a new concrete slab to sister walls to cracked facades, this structure was going to need much TLC to become what the client envisioned as an ideal expansion space. Unforeseen conditions can hamper a project before it even gets started, and this project is a great example of how a team led by a resilient client can turn an ugly duckling into a swan.
Bulleted below are the most memorable unforeseen conditions, and our team's solutions:
Deteriorated and cheese cloth like existing concrete slab on grade

Demolished and installed new concrete slab on grade



Tree growing through exterior wall and foundation (it pushed and compromised foundation)

Removed tree and provided reinforced sister wall between piers tied back to existing wall and dowelled to existing wall footing



Delamination of exterior stucco from masonry wall

Removed delaminated areas, which exposed large brick cracks in façade
Removed loose stucco, rebuilt and stitched wall and cladded exterior with EIFS



Deteriorated interior masonry walls from built-in refrigeration equipment

Repaired with helical ties and repointed



Poor conditions at jambs and flashing of windows not scheduled to be removed

Tenant decided to replace all windows
To turn a 90-year-old building in disrepair into a welcoming space for patients and families to come for routine care was truly a team collaboration. With a six-month design time allotment and a three-and-a-half month construction period, open lines of communication, quick turnaround of RFIs and weekly meetings were paramount to keep the flow of decisions moving to meet the move-in date, and the first patients seen in a completed space on day one.

The space now offers convenient pediatric care and has improved both the streetscape and the client's brand in the community. What was once a shuttered eyesore on a main thoroughfare is now a colorful, well-maintained building that kept its architectural charm.