There are unique aspects to healthcare design, pediatric design and in particular, the design of world-class academic institutions in urban environments. In the past, I've discussed my top 10 list for pediatric waiting room design. Pediatric inpatient units of the future must not only respond to known, documented evidence-based design attributes, but planning considerations and design must be visionary in response to a rapidly changing future.
We can sort criteria by which to develop the design of pediatric spaces into the following categories: People, Technology, Safety & Infection Control, and Healing Environment. In this first of two parts, I will delve into People and Technology. A future blog will tackle Safety & Infection Control and Healing Environment.
People
The pediatric inpatient unit of the future must take into consideration not only the patients and families, but also the healthcare providers. Care is often fragmented in community, outpatient, emergency and inpatient settings. Patients with medically complex and chronic diseases may be underserved; inpatient units will likely support a higher acuity patient population in the future. In addition, demographics often require these institutions to serve a culturally-diverse population with differing customs and needs for social interactions and support.
Family members may travel to be with patients and require overnight accommodations. Sleep options need to include both in-room capability, often a day bed, for both parents, and facilities for extended family members and longer stays. With normal family life disrupted, facilities can employ technology for visual and auditory communications with remote friends and family; however, there must be provision for local sibling/parent and sibling/patient interaction as appropriate.
Pediatric patients range from infant to child to adolescent. The theming and design of these units must be age appropriate, often with specific adolescent spaces. Integration of the Child life service on the unit with education, play and activity space is essential. While discrete family/personal space is required in the patient room, unit-wide family spaces for social support and interactions serve a valuable role. Parents may belong to the millennial generation with high customer service expectations and rapid acceptance and use of new technologies.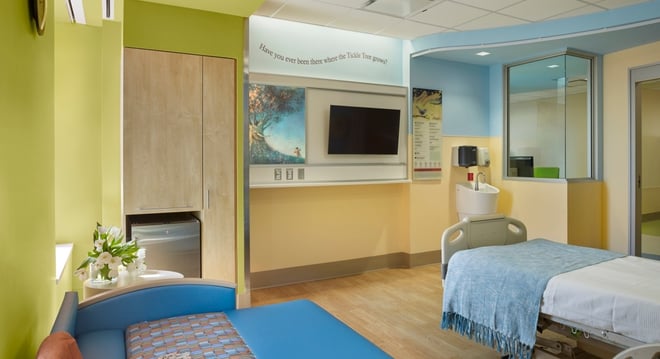 Spaces, such as family lounges with dining and entertainment amenities, washer/dryer for family use, and business office facilities should be available and can be in-unit or centrally located. Access to showers is essential. Dietary needs and restrictions, both allergy- and religiously-based, may be an important consideration.
Space and amenities at the bedside should include a comfortable day bed and varied seating options; in-room refrigerators (per institution approval); adequate and securable personal belonging storage; family and patient entertainment (with auditory control); personal device charging and viewing ports; varied and controllable lighting; temperature control; communication board, and aesthetically pleasing, age appropriate interior design elements.
The design must balance the privacy and proximity/accessibility of the caregiver. While it is desirable to provide both visual and auditory privacy, many parents also value proximity to caregivers. Decentralized charting stations can alleviate the concern when proximity to team stations is unachievable. Additionally, facilities can use communication technologies, which are evolving rapidly, to streamline interaction. However, it is imperative to balance video and intercom communication with providers with HIPAA policy.
Care is typically multi-disciplinary and family-inclusive. There must be space provided not only for provider-to-provider interaction and teaching & research initiatives, but also for family participation in physician rounding, shift change downloads and the level of care with which the family is comfortable. Participation in hospital-based care eases the transition to home care. A layering of provider workstations from on-stage to off-stage is required, with adequate rooms for multi-disciplinary conferences and consultations, as well as niches for impromptu discussion. The design must consider the ability to deal with frank conversations and grieving. Unit design must also support clinician need for comradery and support, in addition to optimal layout for operational efficiencies as a means to maximize time spent on direct patient care.
Technology
Patients may be dependent on high-tech clinical equipment, which can be frightening to families. Between known technologies, research-based technology initiatives and flexibility for unknown future technologies, room layout and space allocations must always be top-of-mind. Patient rooms must be able to support new technologies, which may minimize the need to transport a patient for required diagnostics, allow less invasive approaches to care, as well as achieve more rapid results. A graduated, acuity-responsive headwall design that conceals services when not needed can disguise services and show patient progress - offering hope to families.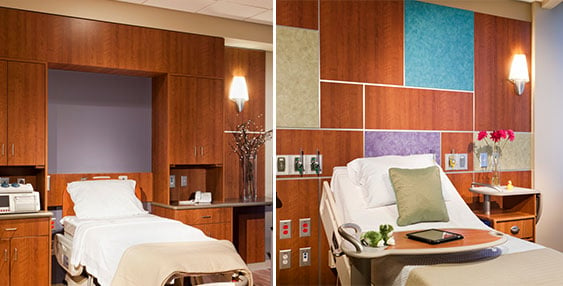 Communication technologies between patient/family and caregiver or caregiver-to-caregiver, whether on hospital owned or personal devices, will need to ensure accessibility and access to real-time information. Staff can utilize whiteboard and/or interactive TV technology for a variety of needs including education, in-demand meal requests, pain management, entertainment, etc.
Facilities may employ medication, supply and equipment management technologies to facilitate rapid access, ensure the right product is administered and minimize waste. Appropriate security systems must be in place to protect the pediatric population.