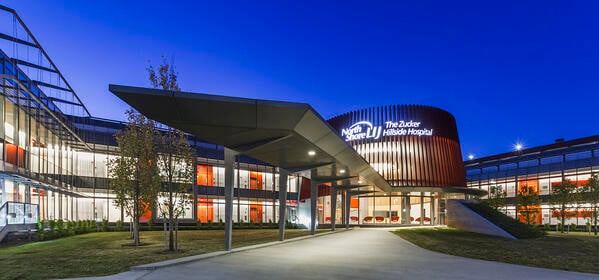 Array collaborated closely with clinicians on the design of the new Zucker Hillside Hospital, opened in January 2013. The spatial organization supports each patient's clinical, emotional and physical needs and provides a safe and efficient facility allowing caregivers to deliver healthcare in a compassionate and comforting environment.
Prior to its opening, our team toured the facility and highlighted how patient-centered clinical requirements informed design decisions resulting in a new hospital offering an environment that adapts to changing behavioral populations. The tour was captured on video and Array has developed four informative videos:
Zucker Hillside Behavioral Health Facility: Building Organization
Planning drivers and design features that decrease the 'institutional feel' of the new behavioral health facility
Part 1: Zucker Hillside Hospital - Building Organization
Zucker Hillside Behavioral Health Hospital: Universal Room Model and Patient Safety Features
Design elements of universal room model that supports three distinct behavioral health patient populations
Part 2: Zucker Hillside Hospital - Patient Areas
Zucker Hillside Behavioral Health Facility: Staff Support Areas
Spatial organization to support staff safety
Part 3: Zucker Hillside Hospital - Staff Support Areas and Safety
Zucker Hillside Behavioral Health Facility: Patient Bathroom Features
In-depth look at bathroom features that increases patient and staff safety
Part 4: Zucker Hillside Hospital - Patient Bathroom Features
Zucker Hillside Hospital, affiliated with the Northwell Health, is nationally recognized for its pioneering clinical, teaching and research programs. The National Institute of Health has established a Clinical Research Center for the Study of Schizophrenia at the Zucker Hillside Hospital, one of only four such facilities nationwide.
Their 221-bed aging facility was woefully out of date and needed to be replaced. An additional challenge was that this facility needed to house three distinct populations: adults, gero-psych and adolescent patients.
In the new facility, all rooms flex from private to semi-private, featuring a 19-bed patient unit comprised of three private and eight semi-private rooms. An innovative corridor system separates patients, staff and visitors into three distinct zones, increasing patient and staff safety, while decreasing the institutional feel of the building.
Activity rooms and dining areas feature partial-height partitions and glass walls to provide visibility from the support zones and also allow natural light to flow through the central areas. Large scale, impactful art, chosen specifically to address the needs of behavioral health patients, serves as a wayfinding device at key entry portals, complemented by soothing colors and materials.
Be sure to visit Array's Knowledge Community, as we will be conducting Post-Occupancy Reviews. Data comparing performance metrics for the new facility with those from the existing facility will be summarized.
Click Here for the Zucker Hillside Hospital project page.
This article was authored by Jon Sell, a former employee at Array.