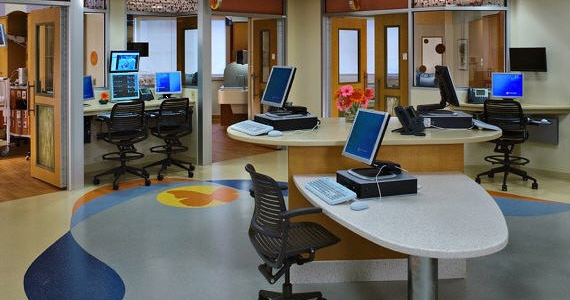 My name is Melissa Carnival, LEED AP ID+C, and in the interest of full disclosure, I am a former employee of Array, having been hired after interning there while attending college. I very much enjoy healthcare interior design, but this past year, after working at Array for five years, I made a career decision to diversify my expertise and joined Workplace Environments 2000, an office furniture dealership that specializes in aligning workplace strategies.
What immediately struck me were the similarities between the two markets. The shift towards open and more efficient work spaces in both markets has occurred as a result of the need for team environments to support collaboration, information exchange, movement and flexibility. People are finding ways to work together more efficiently.
In both healthcare and office environments, workstations are designed to allow for increased collaboration among peers. An interesting part of this shift has also been that the footprints of these stations (whether in an office environment or a nurse station) have gotten smaller; therefore the furniture industry has been tasked with responding to this movement and providing smarter ways to work within those smaller footprints.
Solutions include desking systems featuring varied levels of privacy between users available through the use of screen dividers. Storage has also shifted to more storage under the work surface in the form of below-the-desk bookcase and filing systems, freeing up desirable views to natural light in the office environment and to patient rooms in the healthcare environment.
Outside the workstation and nurse station, additional new products to support these work strategies have been developed. Counter height conference tables in an office environment allow for standing meetings to walk around a table and engage, with crucial time to get up from your task chair and stretch your body. Similarly, counter height "perch stations" in the healthcare environment support clinical decision making by providing a gathering place for caregivers.
In the office environment, soft benching systems are being utilized that are reconfigurable based on changing needs. Intermediate low tables can house touchdown plugs for laptops and cell phone charging, minimizing downtime. Often times these are clustered around a video conferencing screen as an alternate and more relaxed setting to a boardroom, while still allowing for the same tasks to be completed without the formality. Similarly in the healthcare environment, "touchdown" areas are being included in the design of patient floors to support rounding physicians and electronic medical records. In both environments, the work space is constantly evolving based on emerging technologies, and interior design for these areas will continue to evolve to meet changing requirements.