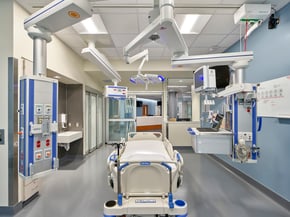 Overcrowding and constrained capacity are common problems facing our healthcare clients. When we're engaged to overcome these hurdles, Array's Lean, process-led approach helps us find the most optimal solution for each client. In this post, I'd like to share with you a situation where the solution was an overbuild expansion of a Cardiac ICU for Robert Wood Johnson (RWJ) Barnabas Health.
Array was engaged by RWJ Barnabas Health to provide architectural design services for a 21,500 SF overbuild including one-story cardiac ICU space for their Core Pavilion, additional patient transport and CSP/OR elevators and new parking and sub-acute patient transport in the adjacent South Building. The result helped boost capacity, improve capabilities and enhance patient flow. This project occurred concurrently with the expansion of the health system's ambulatory building across campus.
Take a deeper look into this project, hear how the design has impacted daily operations, and gain insight to enhance your facility expansion plans in my latest case study linked below.
Blog authored by Marsha Whitt, former principal and regional vice president.