Featured in ENR's Marketropolis blog, February 2015.
In December 2014, I had the opportunity to present at the PSMJ Industry Summit in Orlando. My presentation, "Building a Knowledge-Based Practice in the Digital Age", explained how Array was able to rebrand itself as a leading firm in the healthcare design market by focusing on knowledge sharing as a primary marketing and business development tool.
In a previous post, I discussed the decision to transition to a firm that pursues knowledge excellence and continuous improvement. Our rebranding effort refocused our emphasis around our people and our process as differentiators. Sharing thought leadership and openly discussing how we can best influence our market was paramount in the execution of the brand.
Six months prior to rolling out or new brand, we began developing the thought leadership content to support it. Now, two years later, our interactions with clients are less portfolio-focused and more about our process, our people and the knowledge and experience they represent. When one visits our website, which we use as a portal to our knowledge sharing, you definitely get the sense that our thought leaders are front and center in our marketing strategy.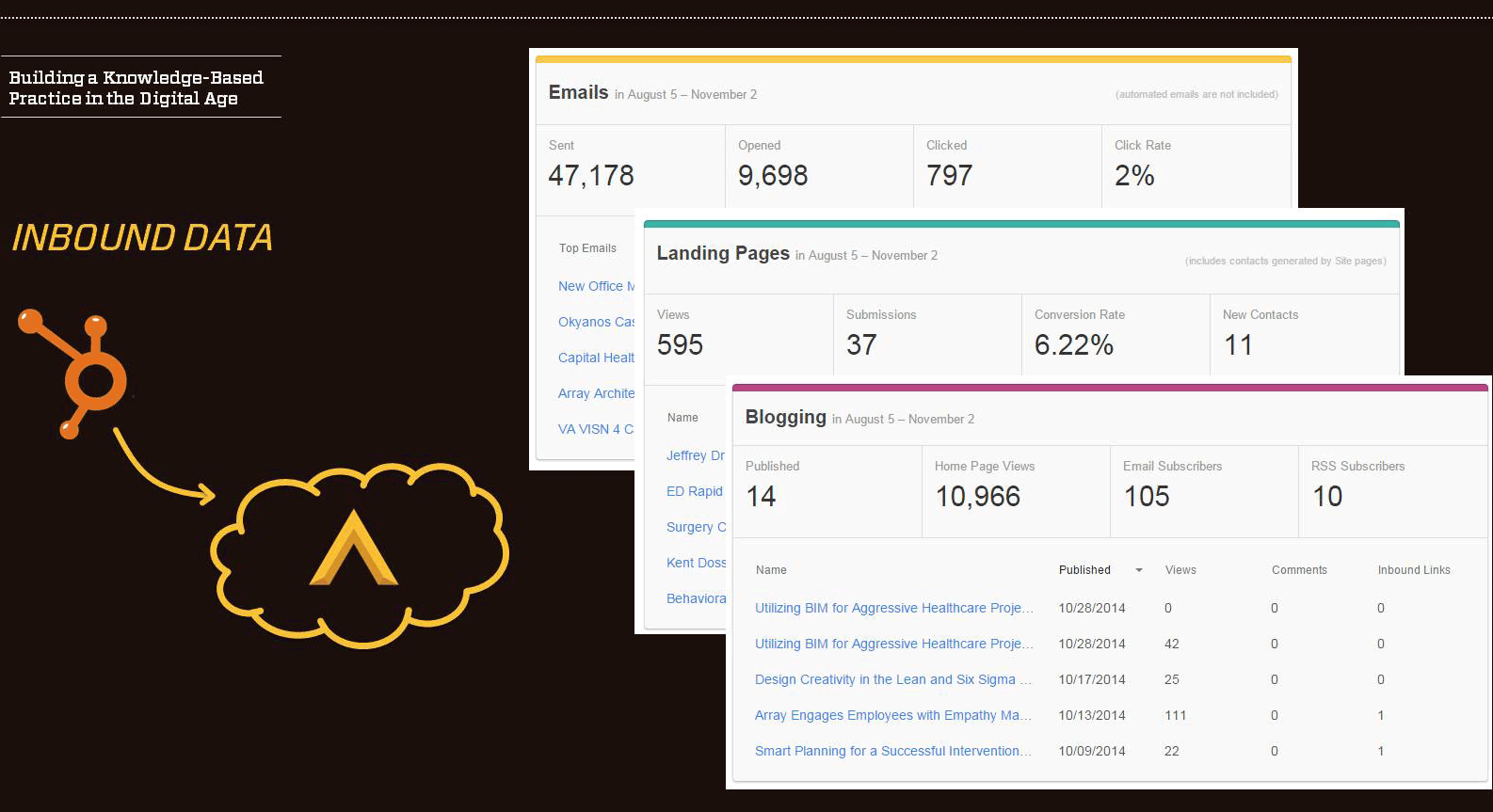 However, I must tell you that getting the bulk of our staff to think in terms of process rather than deliverables is hard work and requires a lot of heavy lifting. It is a continual endeavor. The ability to point to real-time data and show an interaction trail from a thought leadership post, article or email to a health system administrator visiting our site is impactful. Staff become believers in the knowledge-based practice brand and invest in growing that brand through impactful research and writing. Now, every senior leader understands the importance of, and has a significant role in, advancing our brand using thought leadership and knowledge sharing. Just as important, however, is their understanding of the importance of creating content that our clients view as helpful and informative.
Prior to August 2012, Array did not have a knowledge sharing platform or strategy. Since then, we average nearly four posts per month with 35-40% of our current staff participating in a strategy that provides our clients with thought leadership to solve problems they encounter daily. Informative content that addresses pain points for our clients and partners is critical. As the number of participating staff continues to increase, we become much more proficient at capturing and sharing project experiences.
Array's goal to position the firm as thought leaders in the healthcare design market has resulted in several thought leadership e-publications, which bring readers back to our knowledge-sharing site. These publications attempt to address and solve problems our clients face daily. We strive to create an experience with our reader so that they come to see Array has thought leaders who make it their business to understand client issues and solve their problems. When others, especially trusted industry leaders, validate your thought leadership content, the added level of credibility to your work is compelling and can catapult your firm's profile in the market.
In the three years since our rebranding, I have seen Array's ability to do more with less. "Selling" is much more labor intensive and costly than "sharing", and not nearly as effective. This is especially true in an industry where the knowledge and experience of the designer can have such a profound impact on the level of success on the project. Not just through the completion of construction but on the entire lifecycle of the facility and its operations.
Since we began, leading industry digital publications have picked up many of our posts. We have produced numerous publications on a variety of topics found useful by our clients, and have incorporated videos into our strategy. Prior to rebranding, we used external media primarily to promote our portfolio, with little effort to produce content rich case studies or white papers, and videography was not considered part of our business development strategy.
As a numbers guy, I am encouraged by the data that validates investment. The enhanced value we are providing our clients through our knowledge sharing initiative makes this strategy that much more rewarding.