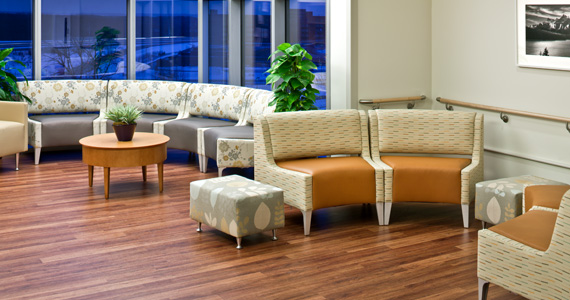 Featured in Facility Care, July 15, 2014.
With environmental and health concerns top-of-mind, when discussion turns to new flooring standards at hospitals, the administration's preference often includes a variety of flooring types that can be maintained wax-free. With the right products chosen for the right departments, proper education of environmental services staff and the understanding that 'high sheen' does not translate to 'more clean,' facilities can maintain their wax-free initiatives for the life of the floor.
While a number of products are touted to have "wax-free" properties, it is quite common for a hospital to resort to waxing their newly installed floors within a few months. Why does this happen?
One of the reasons is mindset. The sheen of a floor is equated to cleanliness – the shinier the floor, the cleaner it is perceived to be. Another reason is failure to communicate with the environmental services staff. What was once a wax-free floor can be completely transformed overnight to one that will be waxed from that point forward. Finally, there are products offered as an alternative product to wax that is, in fact, just another type of wax.
Armed with all of the reasons why wax made its way into previous facilities, today's system administrators' desire to eliminate the need for waxing make them overwhelmingly in favor of finding a way to overcome the obstacles. The elimination of wax and the wax stripping products is proven to be better for indoor air quality, the environment and minimizes downtime for patient rooms and operating suites in particular, as well as the entire facility.
After mock-ups of various floors are evaluated in a patient tower, and administrators make the commitment to go wax-free – there are a few effective steps to take to ensure compliance and a beautifully maintained floor. In one recent success story, though porcelain flooring was installed in the main lobby and concourse areas, rubber flooring was installed throughout the emergency and surgery departments as well as other areas where a monolithic product was required by code. Through testing prior to installing, only one surgical product was found to leave a trace-stain on the floor. As a result, a flooring color was selected to minimize the stain's appearance. Wood-look vinyl plank and stone-look vinyl tile flooring were installed throughout Imaging and patient rooms / corridors. The research and development division of a major floor maintenance product manufacturer provided exact specifications for cleaning products, buffing machines, etc. to maintain the factory protective coating and sheen. The Hospital posted floor maintenance instructions in every housekeeping closet and on every cart. The staff was then properly trained. To this day, the Hospital reports they are happy with the floor selections and are maintaining a wax-free environment.
Karen Allen, formerly part of the Business Development team with Array Architects, penned this blog.