By Paula Crowley (Co-Founder, Anchor Health Properties) & Patricia Malick, CHID, EDAC, Lean Green Belt
Published in Facility Care, June 2012
Location. Location. Location.Much like a neighborhood grocery store or pharmacy that looks for the best location near its customers, increased convenience, visibility and accessibility can equally enhance how a health-care facility attracts and serves its patients.
Retail criteria guided Capital Health of Trenton, N.J., when it sought to rebrand its established image as a major urban healthcare provider. Looking to locate near daily traffic patterns, much like a retailer would, Capital Health chose an accessible site in Hamilton, a Trenton suburb, for a new center of outpatient services and physician specialties. In planning the facility, a three-step approach was followed to achieve the goal of reconnecting with former patients while attracting new ones: stepping back from the traditional healthcare "box" to develop the strategic plan, merchandising the service lines to maximize the number of specialists, and using retail techniques to support the caring touch. The branding approach proved so successful that Capital Health later followed a similar strategy for a new medical center in Hopewell, N.J.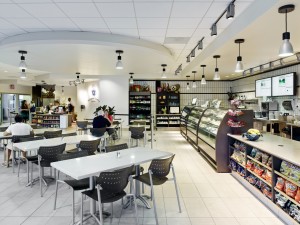 Step Back: Developing the Strategic Plan
As Capital Health analyzed the project, its real estate and market helped move strategic planning beyond traditional approaches to healthcare. Because the health system was seeking to expand market share and reposition itself in the marketplace, the new facility needed to be in a market close to the suburban customer and the area's competition. Selecting a convenient location with high visibility and accessibility was a prime factor in determining success. The criteria was similar to locating a community retail project, with emphasis on a site convenient to drive times and with easy inand-out access.Creating a recognizable brand that people identify as a positive experience is, of course, a retail staple. Capital Health needed to rebrand to be viewed as more accessible to suburban patients, while drawing on the strength of its history of quality healthcare and physicians. The goal was to express convenience, customer focus and integrated services – and to deliver on these promises.To support the brand and vision, the exterior design of Capital Health-Hamilton is welcoming and inviting with extensive use of natural materials, glass and landscaping features. The single-level plan lends itself to easy access and navigability. The overall design was intended to create a comfortable environment that promotes healing through close associations with the natural world and to be viewed more as a community center than a healthcare institution. In the spacious entry accented by natural stone and a waterfall fountain, a concierge greets visitors who continue through the open floor plan to a café and outdoor terrace overlooking conserved wetlands. The center's second phase provides increased visibility to road frontage. The design, by architects Casaccio & Associates, of the 72,000-square-foot total facility delivers further on the brand's promise by accommodating both physicians and all their ancillary services, enhancing patient convenience.The success of the strategy at Hamilton for high visibility and convenience inspired Capital Health to follow a similar approach in a subsequent design, by Array and HKS, for a new 268-bed greenfield hospital in Hopewell, N.J. The exterior of Capital Health Medical Center also incorporates extensive glazing and natural stone with a highly identifiable main entry for welcoming appeal. From the first step into the hospital, the space is infused with a hospitality atmosphere, much like at Hamilton. A concierge offers complimentary services and a dedicated Wi-Fi area is available, along with several dining and refreshment areas, including "grab and go" offerings and room service to patient rooms. Retail shops and the Oasis Spa for skincare, massage and body treatments attract patients and visitors alike. A waterfall feature, a positive healing element also used at Hamilton, highlights an outdoor dining area and accents the hospital's exterior overall, enhancing its visual appeal.
Study: Merchandising the Service Lines
By merchandising service lines, Capital Health-Hamilton maximized the number of specialists that could be accommodated in the facility, along with their supporting services. Studying the basic mix of physicians that would best complement one another was key. Timesharing of various specialists allows patients to access a greater number of physician types in one location. The facility's manageable size is maintained with specialists renting office and exam space for allotted times. The arrangement is attractive to new physicians, just beginning to build the business, as well as older specialists who want to lend their expertise for a few hours a week.The mix of specialists, including ambulatory surgery, ophthalmology, endocrinology, gastroenterology, cardiology, obstetrics and gynecology, pain management, sleep medicine, and neurosciences, are connected and integrated by the sharing of ancillary spaces. Testing areas such as X-ray and ultrasound are sized and conveniently located for efficient use by multiple practices. Patients are able to make a single visit for both their physician appointment and testing, such as a gynecologist and a mammo-gram, with results available at the same time.The array of physician service lines is complemented by the Center's extended hours. Patients can avoid going to an emergency center when they need evening medical care. Parents can take their children, for example, to the Center's calming, pleasant atmosphere and quickly see a primary care physician, without an appointment, eliminating the extreme stress of visiting an ER.By connecting the support services of all providers behind the scenes, the integration of the varied service lines is made seamless, creating a positive experience not only for the patient, but also for the provider's business model. Registration, billing and scheduling are shared by multiple services, made possible by customized technology. Much like retail, all square footage must make sense and be as efficient as possible. The opportunities to share common space for waiting, back-office and break room spaces support the integration of all services.Flexibility to respond to changes in health-care is also strengthened by space sharing throughout the facility. With changing Medicare reimbursement rules, space that is shared can be more easily reprogrammed for more lucrative services. As physicians relocate, vacated space can be quickly filled. The care and feeding of the space is important, so that new opportunities in the market can be served.
Satisfy: The Role of Retail Supports the Caring Touch
Historically, the healthcare experience has not been customer oriented. By creating an accessible, hassle-free, pleasant environment for patients, they can view healthcare as a more positive, caring experience. At Capital Health-Hamilton, an intuitive, friendly approach to wayfinding starting at the front entry is built into the design, with stone columns and wood floor pathways. The open, one-level plan eliminates the need for extensive signage and long corridors, with waiting areas clearly identifiable and offices grouped in the interior space. The scale of space throughout is right-sized, not exaggerated, with ample and varied seating options. Comfortable waiting areas make up the open public spaces as well as in the bistro/café and in an outdoor healing garden. Patients and family are given beepers to notify them when to return to the physician's office.
At Capital Health Medical Center in Hopewell, art, graphics, color and custom furniture are used to create a sense of warmth and personal interest. In the family waiting area for pediatrics, bold wall murals of hot air balloons and horses draw patients and families to the area. Other colorful wall art is complemented by a series of low caterpillar-like ottoman seating in playful colors. In the bistro, a stone mosaic accents walls and in patient rooms, multicolored wall panels enliven the head-board wall. At the elevators of each patient floor, intimate seating clusters by a fireplace, for a cozy, nurturing setting.
At Capital Health-Hamilton, the one-stop shopping approach also improves the patient experience through convenience and better care. A physician can assure the patient that all testing will be completed at the same site, allowing for speedier, more directed care. To support the one-stop concept, however, all ancillary services, including blood work and testing, need to be properly staffed so that physicians and patients can receive results within the shortest possible waiting period.
Further community connection is made at Capital Health-Hamilton through the inclusion of a public conference room, available for health education and other events. A patient education area provides access to information about directed websites, support groups and classes on disease management and other health topics.
While retail techniques should not be viewed as revenue generators, convenience, visibility, accessibility and one-stop can strengthen the healthcare provider's services and ultimately add to the facility's bottom line. The essential ingredient is for physicians, administrators and staff to believe in the concept of customer/patient appreciation, make it a focus and support it on a daily basis, from concierge to billing.