An urban pediatric hospital on the east coast of the United States serves thousands of patients daily. Recently, in its continuous effort to improve the quality of service, this pediatric care facility hired Array Architects to help design a new clinical space. This new space was expected to house three existing clinics currently operating in three separate parts of the building. When facilities face this situation, they sometimes determine their new space needs by adding together the current number
of exam rooms, staff and other resources utilized by each clinic separately. The resulting space plan may be oversized, supported by little or no data. Lacking data, the space needs cannot be validated, resulting in unnecessary capital expenditure.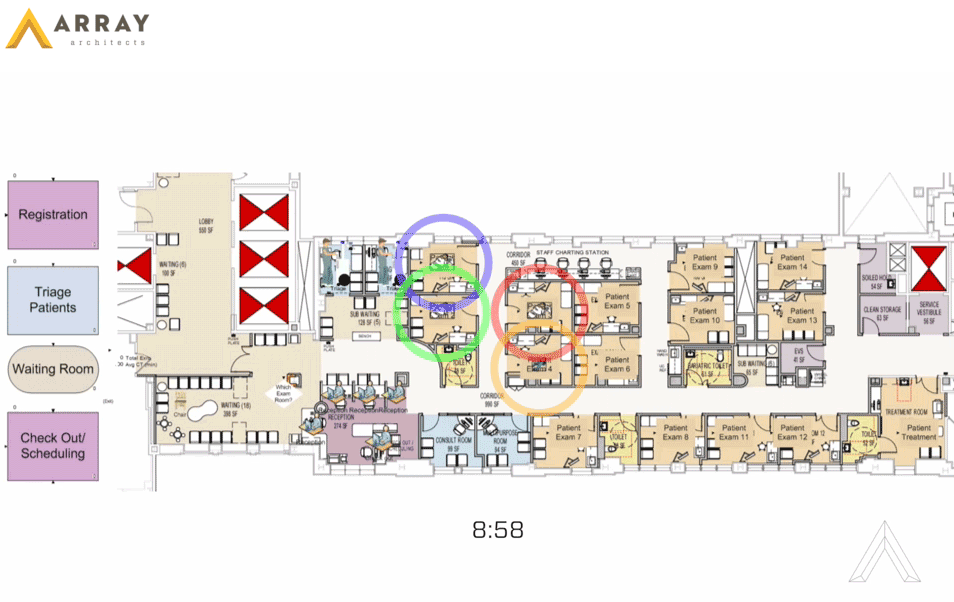 Array does planning differently, beginning with our Discovery phase. Through our
previous experiences
with simulation modeling, we have improved our project delivery technique. We delve deeply into current hospital operations to uncover the unvarnished truth about what is actually necessary in a new facility. We spend time at the facility observing flow and speaking with staff. By the end of the first phase of the design process, we have a good understanding of current operations and future goals.
The client referenced above faced a tough situation—combining three separate clinics into one space. Array saw it as the perfect opportunity to challenge their Healthcare Systems Engineer: How many exam rooms and how much waiting space would be necessary to house these three clinics in one flexible department? In this case, a simulation model was chosen as the proper tool to determine the optimal number of exam rooms and waiting spaces needed to support this merger of services.
This simulation demonstrates what happens when three clinics are combined into one.
Many steps and large amounts of data go into simulation models, especially ones this complex. Finding or collecting data may seem daunting, but we work closely with the stakeholders to obtain the data we need and turn it into accurate information. Key figures
provided by this client included patient volumes, current room usage and physician schedules. Array's Healthcare Systems Engineer observed the clinic to get an idea of how patients flow through the current system, and worked with staff to discover their ideal patient flow. We worked with hospital staff to develop and use a simple time study form to capture each major step in the patient care process for about two weeks. Each piece of data played an important role in the creation of the simulation model.
Array worked closely with the staff of the children's hospital to ensure that the simulation model was running just like the actual system. A few weeks into the project, it became clear that the desired number of exam rooms far exceeded the number needed to service the current volume of patients. Even as volumes were increased to match projected growth, not all exam rooms were being utilized. This was shocking for the hospital staff to see because they thought they would need even more exam rooms than the initial total. Additionally, the waiting room spaces were found to be more than adequate for the expected patient volumes. Once again, the team was very surprised; they initially requested as much waiting space as possible due to current observed crowding in each of the separate clinics.
The simulation gave our client the confidence they needed to make critical decisions about the exam rooms, waiting space and support spaces. Moreover, after hearing explanations from our team supported by the simulation model, the stakehol
ders were confident enough to include two additional service lines in the new space. The results of the simulation allowed the client more flexibility in their planning so that renovations would not be necessary in the near future.
Array is championing new processes that give cl
ients more confidence when faced with difficult decisions during the design process. What would help boost your confidence when making a tough decision about space allocation?