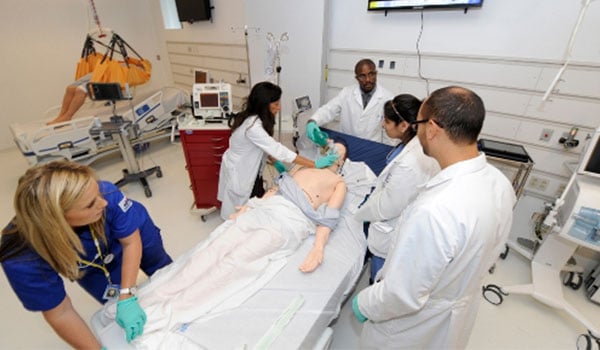 In my first two posts, I addressed the larger, more philosophical issues that need to be addressed when planning a Simulation Center, as well as taking a more in-depth look at specific elements of a Simulation Lab.
In this third and final post, the focus is on how the Simulation Center can be designed to facilitate learning and how you can accommodate industry and technology advancements.
What is your communication strategy? When planning simulation labs it is important to define a communication strategy . . . . your simulation lab is only part of the immersive learning process - without a clear plan for preparatory, instructional, and follow-up communications your lab will not reach its full potential. Adequate spaces should be provided to facilitate communications including:
Lecture Rooms in close proximity to the simulation lab allow for instructions to be given in a classroom setting and then immediately be practiced in the simulated patient care environment. This room can also function for debriefs and follow-ups with full classes.
Standardized Patient Room should enable instructors to educate the actors before sessions and debrief/critique them afterwards. This space can also function as the Standardized Patient Lounge.
Debrief Rooms allow the instruction team to meet with the student immediately following a mock procedure. While a mock procedure may take very little time, the follow-up debrief will probably take significantly longer, so these spaces should be in close proximity to the lab and there should be enough of them to ensure that back-ups are avoided.
Instruction Planning Rooms allow instruction teams to plan mock procedures comprehensively between clinical instructors, standardized patient coordinators and technicians.
A clear communications strategy that defines the preparatory (for students, instructors, technicians and actors) and the post simulation processes will help determine the type, quantity, and technological features required. While some of these spaces can be multi-purposed, it is important to make sure that each function can be completed without compromising operational process efficiency.
What is your long-range plan to accommodate industry changes? Probably the most common mantra in our industry today is that "the only thing that is certain in healthcare is change"…and in order to effectively educate tomorrow's caregivers, simulation labs must be designed with enough flexibility to evolve with current best practices. As healthcare reform continues to place more emphasis on patient satisfaction (HCAHP) scores simulation labs should similarly become contributors in "patient focused" education so that your students are as prepared as possible as they transition from the academic world into actual practice.
How can a Simulation Center enhance your brand? Whatever the ultimate program scope, technological sophistication, or level of realism, your simulation lab can serve as a testament to your institutions commitment to thoroughly and effectively educate our future caregivers. It should be a celebration of learning that can be used to attract new students, improve staff enthusiasm and retention, provide valuable opportunities for outreach and continuing education, and announce your dedication to the improvement of healthcare education to your alumni and potential donors.
Array's long history of designing healthcare spaces provides a sound fundamental understanding of the current state of the industry that medical students are preparing to enter. Yet, in the last few years, as the healthcare industry experiences transformational change, so too must the preparation for providing care evolve. No longer can Simulation Centers simply build a standard Operating Room and a bank of 100sf exam rooms. It is necessary for the design team to deploy far greater resources to this design challenge than simply their previous experience:
Research: It is our dedication to research that has helped our clients to be prepared for this changing healthcare context.
Dedicated Thought: Projects these days are too important, too constrained by budget, schedule, and scrutiny to be based on an educated guess. As designer's we are constantly working and exploring in concert with our clients to anticipate changes in reimbursement, process, caregiver roles, technology, and patient need to help define what the future of the healthcare setting will be. Simulation Centers should accommodate this change, and recognize that change will continue – so flexibility is a must.
Defining/Enhancing the Brand: A Simulation Center will be the epicenter of rigorous exploration, thorough understanding, and enhanced collaboration. Like a badge of honor, Academic Medical Centers prove to their prospective students that the best technology and innovative approach to learning occurs right there.
Process Improvement: We have long embraced a philosophy of continual process improvement- both in how our clients work, and how we work. As we work with our clients to understand their operations, we also continue to refine our design process with the latest technological tools to provide solutions that can be assessed, tested, and agreed upon, so that we know each step is in the right direction.
Lean Design: Our design process is rooted in Lean-thinking. Working with clinicians and other staff to understand current work patterns and areas for improvement is crucial in defining their future space. Lean design is a methodology for respectfully challenging the status quo, and strategically defining the most appropriate environment for the future. In designing a simulation center, Array works with both the academic and healthcare leaders to ensure that operations are considered efficiently and effectively.
Real Time Location Studies: It is always fascinating to look at a motion study and realize the paths that people are taking, the frequency of trips, and the inefficiencies in a workday… repeated over and over again. Array is pushing the envelope in this regard, by implementing temporary systems within our clients' departments to track movement, precisely – and over a longer period of time, through specialized ultrasonic tagging. In a Simulation Center, we believe tracking movements of students as they progress through the various steps of their process, or having affiliated hospital staff be tracked for instruction of the students will provide a more thorough understanding of workflow and will drive greater efficiency.
Process Simulation: We believe our design process will get us to a point that is very well informed, and very close to representing our client's needs – but we also believe in testing our solutions. Through Process Simulation, a data driven modeling software, we can input quantitative data (such as projected volumes over the proposed number of exam rooms) to virtually project a particular plan's performance and confirm the viability of the solution. Subtle adjustments can be made before the project is built to fine tune the solution, and get it closer to perfection.