On February 26, 2014, I moderated a panel of experts for the McGraw Hill/Engineering News Record's " The Pulse 5 - The Future of Healthcare" in NYC. The conference explored issues currently shaping national and regional healthcare construction markets. The panel focused on "Innovations & Trends in the Future of Healthcare and Construction"with a diverse group of national experts including; Richard Steimel, Senior VP & Director Operations at Lend Lease; Charles Abel, Director of the Division of Health Facilities at NY Department of Health; Regis Gaughan, Director of Healthcare Life Sciences at AKF Engineers; Kurt Hutter, Executive VP at Anchor Health Properties; Pamela Ward O'Malley, Design Phase Manager at Gilbane Building Company; and, Andrew Quirk, Sr. VP & National Director of Healthcare at Skanska USA.
The Panel was structured around four topics concluding with a multiple choice Poll question answered by each of the panelists. Prior to the panel discussion the audience voted on each of the poll questions through an interactive software called "poll everywhere" utilizing their smart phones. Comparing the Panel and audience results was a dynamic and entertaining process.
Topic #1: Focused on how hospitals differentiate themselves in a highly competitive market.
Kurt Hutter pointed out that healthcare is becoming retail with the key differentiators between facilities being customer service and process. Charles Abel remarked that the regulatory perspective was on flexibility based on recently constructed projects currently being reconfigured.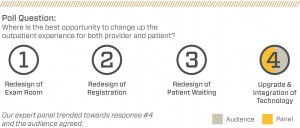 Topic #2: Discussion centered on project deliver methods and particularly around IPD (integrated project delivery), asking the questions - "does it really work?" "and in a world of traditional adversarial relationships between owners, architects and builders are we really ready to trust each other?"
Pamela Ward O'Malley noted the challenges of IPD and suggested toggling between GMP/ IPD on certain accelerated large projects with Rich Steimel endorsing GMP and Kurt a proponent of design/build with the rest of the panel selecting GMP.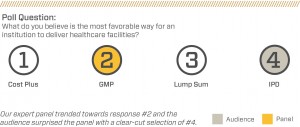 Topic #3: Explored where the Industry is headed with regard to the true integration of the built environment and what technologies are being implemented in healthcare design that are changing the way that care is being delivered.
Topic #4: A passionate discussion ensued on Building Information Modeling's ( BIM) impact on A/E/C project delivery methods saving both time and cost but more importantly ... The real question continued to be " Will healthcare take advantage of the finished BIM model and use the extensive database platforms to enhance the operation of facilities? How can AEC industry help?
Regis Gaughan explained that BIM and Revit have enabled advanced coordination, thus reducing change orders and costs. He has seen the models used through commissioning but was concerned that the data rich models were not embraced yet by owners for operation of their facilities and building automation.
The panel suggested that the A/E/C industry could promote BIM usage by facilities through education, training and showing examples of facilities that have transitioned successfully and enjoy the reduced energy usage such, as in Europe.
The panel and audience were entertained with the format which allowed them to interact and gained much insight on the topics. We all came away with a refreshing perspective on the future of healthcare construction and trends.