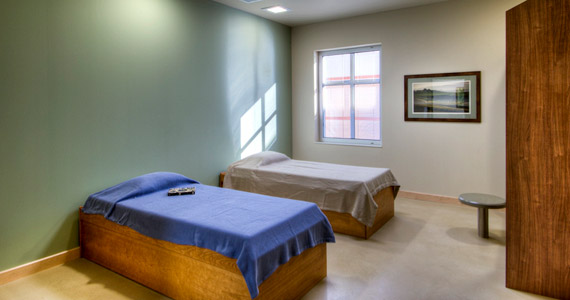 When conceptualizing the design or renovation of a behavioral healthcare facility, it's important to institute features and materials that are conducive to privacy and personal dignity.Maintaining a safe environment with a strong foundation of safety hardware and fixtures should be a strong consideration. While seemingly obvious ideas, they could very well save the lives of the facility's inhabitants. Consider the following design choices when planning a behavioral healthcare facility:
Anti-Ligature Door Hardware – Focus should be placed on the patient room door, the patient bathroom door and other doors in areas where a patient may be left unattended. There are many products available on the market. There are a few lever handles that have tapered levers that break downward and have conical escutcheons to prevent looping.
Door Hinges– Geared continuous hinges with hospital tips also reduce the risk of looping. Consideration should be taken to specify products that do not have removable pieces, such as pins. Although behavioral health patients do not have tools, they often have time and will find ingenious methods of disassembling building materials to hurt themselves or others. Double-acting doors or, at the very least, doors that swing into the corridor will also increase safety in behavioral health design. It should be noted that local or state statutes may prohibit the use of out swinging doors, so it is wise to check with the Authorities Having Jurisdiction (AHJs) during the schematic design phase project.
Door Closers – Closers should be used sparingly and should always be applied to the non-patient side of doors, or, if both sides of the door are accessible to patients, always use a security closer on the more public (visible to staff) side of the door. And like all hardware in a behavioral health facility, closers should be mounted with tamper-proof screws.
Protective Lavatory Enclosures – To avoid tampering with exposed piping and electronic components in bathrooms, a durable, vandal-resistant enclosure is ideal. A synthetic material such as vinyl pipe enclosure is adequate in retrofit situations but a removable panel at a vanity front made of a more durable material such as a resin panel and attached with tamper-proof screws will provide a longer lasting solution.
Clothing and Towel Hooks – A properly designed anti-ligature towel hook will have a ball joint held in place by a spring loaded ball bearing. This will cause a "breaking point" at about 20-30 lbs. in which the ball joint will be pushed downward from the excess weight. This will reduce instances of potential ligature.
Patient Mirrors – While differing in optic quality from glass mirrors, the obvious benefit of being unbreakable makes stainless steel mirrors an excellent choice for any institutional bathroom. Products vary between framed and frameless designs, but all should feature tamper proof screws or vandal-resistant rear mounting for fastening to the wall.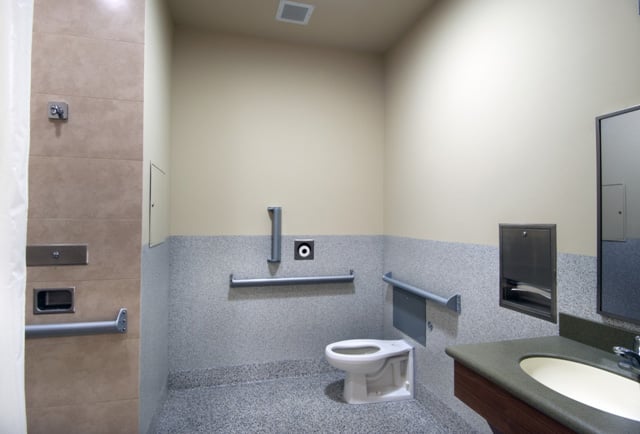 While these are substantial ideas for tamper-proofing a behavioral health facility, there is a vast assortment of other materials and methods that can be integrated to ensure the continued safety and well-being of your residents. Any solution should be discussed with the facility's risk manager and be appropriately designed for the facility's patient acuity.