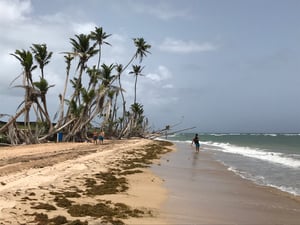 It has been over a year since Hurricane Maria and life is still not back to normal throughout much of Puerto Rico. Hurricane Maria swept through the Caribbean island on September 20, 2017 and resulted in monumental destruction. Before the storm, the Island was already in the process of recovering from a hurricane just a few weeks earlier.Hurricane Maria is considered the worst natural disaster to impact Puerto Rico this century. The impact caused significant infrastructure damage, loss of life and widespread power outages culminating in an impossible way to continue to live a healthy life. The hurricane response efforts were immediate, but the island community is still far from being totally reconstructed. The extent of the recovery effort has been a source of controversy and the residents of Puerto Rico feel forgotten and left behind. The formidable challenge to recover and move forward seems at times almost impossible.
After graduating this spring with my master's in architecture and starting my career this summer with Array, I was fortunate to have the opportunity to spend two weeks volunteering in Puerto Rico to gain insight into the current living conditions Puerto Ricans are enduring. I participated in a program sponsored by the organization All Hands and Hearts. The global efforts of this organization are to efficiently and effectively help local communities in their recovery process from natural disasters and to rebuild resilient community infrastructures. Their base in Puerto Rico is in the Yabucoa Valley, along the southeastern coast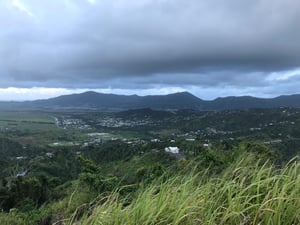 of the island. This local community has an aging population with widespread poverty which has been a source of concern for years. Unfortunately, when Hurricane Maria made landfall, the Yabucoa Valley received the storm's direct hit. As a result, All Hands and Hearts has been present in this area since December, 2017 with a permanent barrack set up to house volunteers of all ages and backgrounds. Based on a community outreach assessment, there is an urgent need to fix the infrastructure of the Valley. The current living conditions pose a great threat to the overall well-being of the local residents' health and safety.
At its core, the importance of healthcare design is the individual. All the planning, drawings, meetings, weekly huddles, etc. are all in an effort to ensure we are doing our best work and people are receiving the care they need to live a normal life. At Array, it is our mission as healthcare architects to design solutions that will help people in moments that matter most. Our shelter, our home, is probably the most basic resource that provides us with life and security for our survival. The idea of a healthy living environment is something most people do not typically need to think about twice. Today, it is not uncommon to find the people of Puerto Rico living in horrendous conditions with roofs leaking profusely, a minimal power supply and most upsetting, immeasurable amounts of mold growing inside their homes. After speaking with community members, new roofs were the highest priority. The service provided by All Hands and Hearts included a three-step process to provide healthy living for each family:
1) roof repair
2) sanitation
3) critical repair on the envelope of each home
Roof Repair:
All the homes in the Yabucoa Valley have flat, concrete roofs. The initial steps in repairing a roof were to identify areas of extreme leakage, clean off debris, power wash layers of dirt from the surface and then scrape away loose areas of concrete. The next steps included designing working drains and ensuring a natural slope existed to properly move the water off the roof. Also, patching all cracks and holes in the structure was necessary to guarantee water no longer entered the home. The final step was to coat the roof with layers of a waterproofing sealant. A roof would take four-to-five days to complete, at an estimated cost between $5,000.00-$8,000.00 per roof.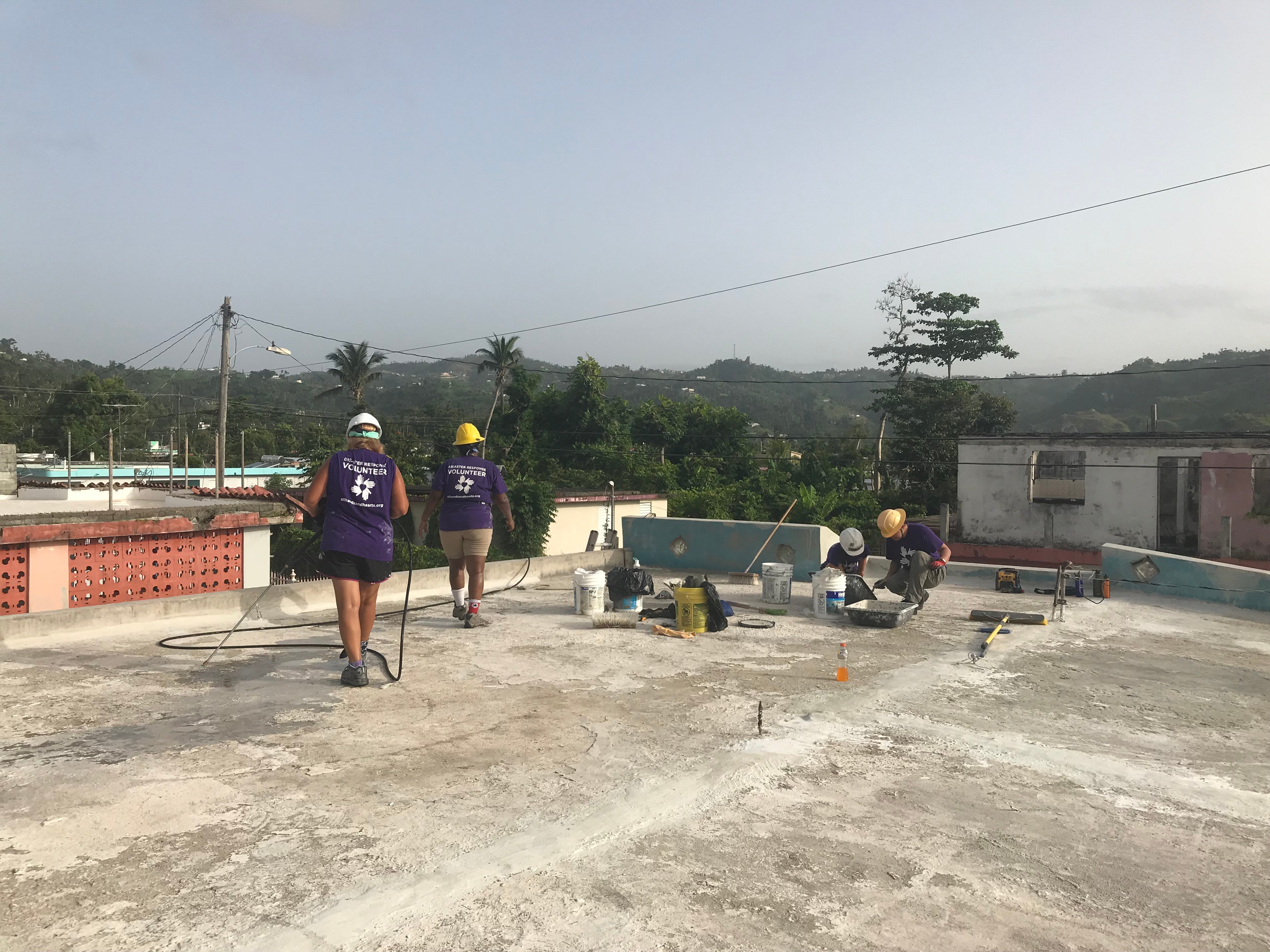 Sanitation:
The sanitation process required homeowners to vacate their homes for a day while volunteers cleaned the mold growing throughout the interior. The mold growing in each house originated from the constant water leakage and created respiratory hazards as well as other ailments for individuals. Volunteers had to be fully dressed in hazmat suits and spent their time scraping off a thick covering of mold by spraying chemicals that destroyed its continued growth. Every surface was meticulously scrubbed clean. After several hours of ventilation, the residents were permitted to return to their homes where it is now dry and once again safe to breathe.
Critical Repair:
The final scope of work for each family home was an assessment of the windows and doors. Based on the strength and durability of the hardware that survived the hurricane, stormproof doors and windows would be installed. With the completion of this essential task, hurricane disaster recovery for one family home was accomplished.
Overall, the collective efforts involved in helping one family took more than a week to complete and utilized eight-to-12 volunteers. In the Yabucoa Valley alone, there are over 1,000 people remaining on an aid list. There are other communities across the island that are living in similar conditions and are receiving no help. All Hands and Hearts is committed to continue this community effort for years to come or until their donation funding is depleted. It is hard to even imagine the heartbreak associated with the idea of having no other option but to continue living in conditions like the ones I witnessed. The recovery process is a challenge and comes with a great reward, but the ultimate realization is to understand our climate has shifted. As a global community, it is imperative that we find a solution because the most sustainable answer in the long run is to prevent these weather patterns from continuing to worsen and threaten our homes.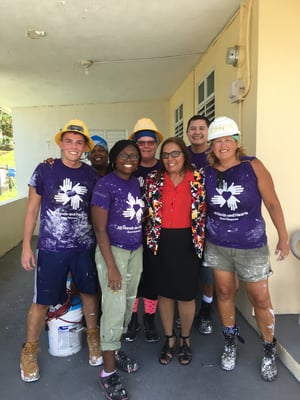 Knowing the work I was doing was benefitting someone else was great for the mind, body and soul. It was also very satisfying to directly see the impact your work had on an individual. Each day of work, we were provided meals by the homeowners and their typical response was extreme gratitude and tears of happiness for our help. Shelter is one of our most basic needs in life and the restoration of the homes in Puerto Rico is the goal of the All Hands and Hearts organization and all their volunteers. This volunteer experience has had a profound impact on my understanding of how important both home and safety play in our well-being. I found my role more than rewarding because I actively worked on improving the quality of life for people in need. It was fun to work outside daily and perform labor intensive work with a group of strangers who all bonded through a common mission.