Behavioral healthcare remains an underfunded service line, and Array strives to promote the important work of our clients who are focusing on this stigmatized specialty. In recent years, we've worked with Children's Hospital of The King's Daughters, One Brooklyn Health System, Holyoke Medical Center, Children's National Hospital and others to expand behavioral health services. That work serves children, adolescents, and adults by providing a mix of outpatient, partial day and inpatient services.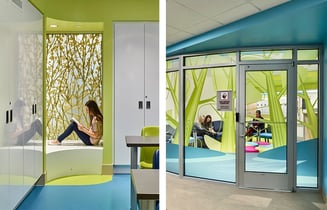 Recently, my colleague Madeline Hill and I had the opportunity to revisit a presentation we delivered in 2018 at HealthcareDesign's annual conference. This story of re-imagining what child and adolescent behavioral health could be is one that never gets old for me. We believe that the project sets a precedent for best practices when designing for this cohort of patients and their caregivers.
The facility enables high quality care with functional and well-defined spaces. Open, communal spaces are used for patient therapy, classrooms, and activities; while private and shared patient rooms, quiet activity rooms, and shared support space for the staff create a center for healing. Staff feel safe in the space and are confident that they have the support needed to care for their patients while retaining sufficient "off-stage" space for care team collaboration. As we continue to visit the space and perform post occupancy studies, it is rewarding to observe proof that the design has met or exceed the metrics for success set by the owner at the onset of the project.
Get an inside look at the design underpinning this renovation plan in our Center for Health Design webinar.