Designing a Linear Accelerator (Linac) tends to be one of the more complicated projects you come across in diagnostic imaging. There is an abundance of information, critical milestones for coordination, and oversight required from the onset of the planning phases through construction administration. Not only is this a time-intensive investment, but a significant financial one for the healthcare institution as they consider adding to or upgrading their oncology services portfolio.
Recently, Hackensack University Medical Center's (HUMC) John Theurer Cancer Center reached out to the Array team to construct and update a shelled Linac vault. A challenging endeavor to say the least, as the shelled space is in an active cancer treatment center.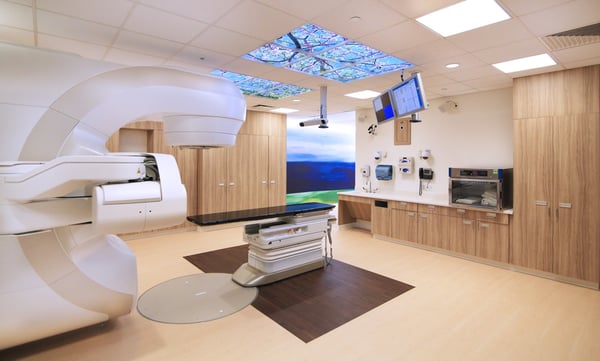 Designing with Patient Milestones in Mind
It was clear through the lens of the Oncology team at HUMC that the patient's perspective and experience were to exist at the forefront of the design. As the patient moves through a space on their treatment journey, which is often a traumatic and stressful one, the built environment can have a significant impact. Like project milestones, each patient experiences milestones during their cancer treatment. It is our responsibility to ensure the design is optimized at each of those critical junctures to create a positive patient experience.
Reducing Clutter, Anxiety in Treatment Room
There are multiple thresholds the patient crosses as they make their way from the Linac vault entry to the treatment couch where they will receive their TrueBeam image-guided radiation therapy. As designers, and with the encouragement of Hackensack's Oncology team, we strove to create an environment that was free of clutter, anxiety provoking equipment and sterility. When the patient first enters the space, they are welcomed by warm colors and textures. As they enter the vault, the casework conceals the treatment lasers, molds and trays. During treatment, patients can focus on the Skytron image, a luminous panel, as a means of positive distraction. Thinking creatively beyond the equipment manual and focusing on a high level of detail provided by patients and clinical staff led to the design's success.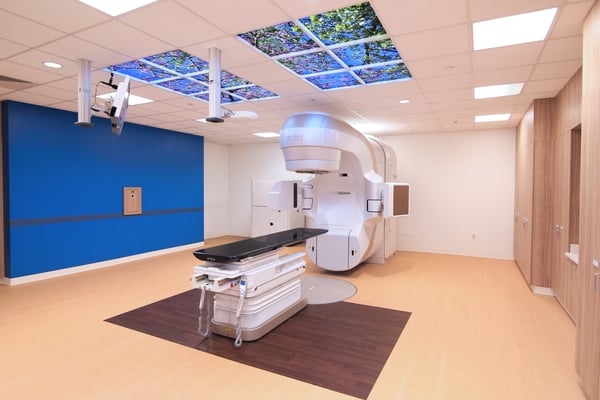 Providing Positive Distraction
Custom designing the skylight was a particularly rewarding experience. Staff at the Cancer Center were sure of what images they did not want to consider and provided valuable feedback. To instill hope and bring nature into the vault, the team decided on a budding tree filled with pink flowers. The view from the patient's treatment couch evokes the sense of laying under a tree during spring, and we hope it helps lower their stress level for even a few minutes as they receive radiation.
After personally experiencing the grueling treatment a warrior fighting cancer goes through, it is my hope that we as designers are not inhibited by the codes, manuals and systems that predicate design. Instead, we must focus on opportunities to enhance patient experience in each built environment they encounter.
Explore the range of Array's oncology design expertise in our design book.