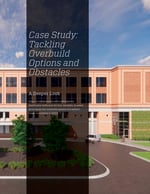 As a healthcare architect, I get to see every day how powerful specialty care can be for the patients being treated in highly specialized hospitals. It is not every day that we are able to design space within a community hospital that allows patients to receive specialty care closer to home.
In this case study, my team and I share the rewarding and challenging work to create a two-story overbuild for one of our long-standing clients. Building on a relationship that started in the 1980s, Array is in the midst of adding much needed inpatient space atop an ED/inpatient building we designed in the early 2000s. The specialty orthopedic unit on one of the floors will provide rehabilitation care often found only at a rehab-specific facility. For now, the other floor will remain a shell space, but It is anticipated that 50 high acuity beds will eventually occupy both floors.
Read the case study to explore how we mapped the ideal patient unit and used mock-ups to validate the program -- as well as a host of other useful overbuild tips!