As an artist, photographer and designer for 35+ years, I've developed a broad range of creative skills across multiple media for a variety of healthcare, educational, informational, corporate and institutional venues. The culmination of my experiences has led me, for the past 10 years, to focus on large-format, public-space printed murals in healthcare settings.
The road for me, although always creative, has been especially circuitous. The fact that, 10 years ago at age 51, NewYork Presbyterian Health Network gave me the opportunity to construct large-format immersive print-based murals was an amazing stroke of good fortune. That first project led to others, and a new direction for my career. Not only is the work creatively fun and stimulating, I know that in the end I'm providing a public service. Knowing that I'm having a positive impact on the lives of patients and professionals is immensely satisfying.
When Montefiore Medical Center's Shiva Shahdi commissioned me, after exploring a number of themes, we developed an approach that highlights the natural flora of the Bronx, often overlooked in this urban setting. The successful result was an environment that is at once calming and engaging. The natural tone complements the beautiful architectural design by Array Architects and warmly welcomes visitors, many of whom may be experiencing stressful health issues. The completed works total 9' x 100' in four sections on glass panels, including one 40-feet curved glass wall fabricated by Skyline Design. Further emphasizing the natural setting is a waterfall element across from the murals. The piece won a CODA Top 100 public space award for 2015.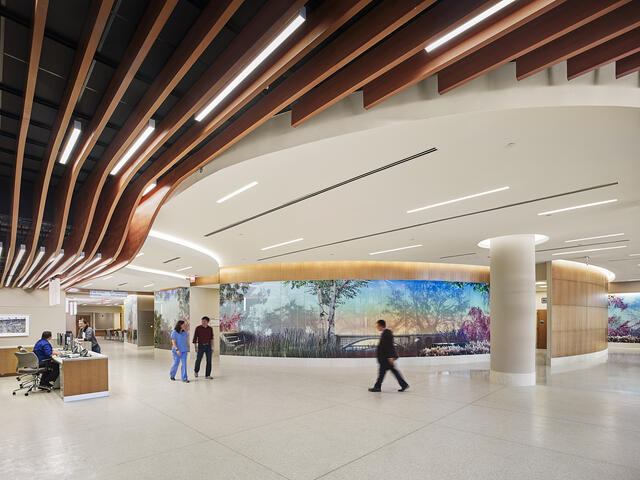 "Hey there, Mr. Grumpy Gills. When life gets you down you know what you've gotta do? Just keep swimming." -Dory from Finding Nemo
At the end of my senior year of college with no particular plan, I couldn't have imagined doing what I now do. I picked up freelance work, and kind of rolled along without a real plan for "adulthood." What I did have was a strong belief in my abilities, an equally strong desire to live a creative life and a boatload of determination. That became important in some lean times over the years and that is where the "keep on swimming" part comes in. I do believe there are countless creative people who may not, for whatever reason, have the drive to keep going when confronted with rejection. Nearly every person in any creative field will have to deal with this reality at some point. Opportunities sometimes arise like specters, here and then quickly gone. Maybe a better analogy is the "Whack-a-mole" game – sometimes it is wise to take what you can early on.
The next opportunity a position in news graphics and illustration with a northern New Jersey newspaper, eventually provided a doorway to the newly developing world of interactive media, where my drawing skills came in handy. I spent a number of years in this growing field, and managed to maintain career momentum by building my arsenal of creative, technical and managerial skills. In my spare time, I created paintings, building up a decent following through many shows locally and in New York City.
Fast-forward 15 years when the NewYork Presbyterian opportunity of a lifetime presented itself. Each unit's theme focused on different areas of New York City; and, wow, did I have a blast doing my own photo shoots and piecing stories together for the young patients and their families! The thrill of seeing my work along corridors for the first time was almost overwhelming. Hearing the many anecdotal comments from patients, their visitors and even staff was a bonus. Rather than walk through somewhat long stark hallways, these people engaged with, and comforted by, the imagery accompanying them.
This part of my career, in many ways the most meaningful creatively and spiritually, blossomed from there. I went on to projects for Columbia Presbyterian, NYU Langone Medical Center, The Children's Hospital of Pittsburgh, Montefiore Medical Center as well as additional healthcare projects through Madison Square Garden's Garden of Dreams Foundation. The joy of creating immersive visual environments, of being part of a creative effort to provide a modicum of distracting relief for patients suffering from stressful health situations is quite a blessing for me. It's also immensely gratifying to create works that weave a thematic narrative and fit organically with these architectural spaces.
The Montefiore project with Array Architects led to another first for me. This purely visual concept, devoid of text of any kind was to be visible upon approach to the outpatient center and wrap completely through the main lobby leading the way to reception and the 12-story building's main elevators. This was a change from the majority of the other projects I have done, which required retrofitting into spaces undergoing renovation. All around, this project was a new professional highpoint for me. While my focus will remain in healthcare, this type of more open visual style will, hopefully, open some doors to other creative venues.
Like Dory, I never did stop swimming, even when I was almost out of breath and treading water. It was well worth the effort.
Array is pleased that James Kimak, an accomplished art director, photographer, digital artist and painter collaborated with our team on Montefiore Medical Center's new Ambulatory Surgery Center. Amongst other awards, Jim was lauded with the 2009 Distinguished Service Award by the Rockland County (NY) Legislature, and a number of Creativity International Design Awards over the years for his work at various hospitals including NewYork Presbyterian and the featured mural in this blog at Montefiore Medical Center (2015 Bronze Award) as well as the aforementioned 2015 CODA Award for Top 100 Public Space Art.
More on Jim's work can be found at http://www.kimakdesign.com/index.php.