The Integrated Project Delivery (IPD) approach joins the owner, architect and contractor into a single collaborative team. Ideally, this approach will optimize project results, increase value to the owner, reduce waste and maximize team efficiency.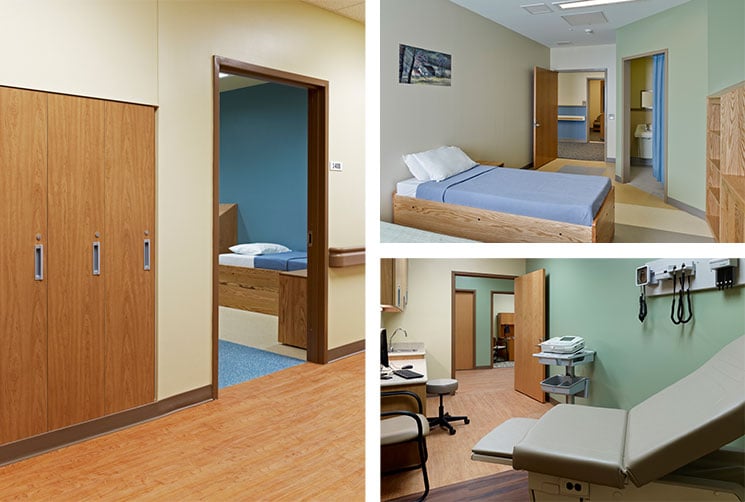 Universal Health Services (UHS), currently operating more than 200 behavioral health hospitals nationwide, takes this approach when it uses the same team for projects across multiple sites in a region. Seeing an increase in daily census, UHS recognized the need for additional space in order to serve this inpatient increase. Since March 2009, Array has worked with UHS and Wohlsen Construction on four projects which include site evaluations, renovations and additions at multiple sites throughout the MidAtlantic.
The first project, Rockford Center's adult recovery bed addition, began as a study to explore the optimal location to add beds for the allowable increase in licensed beds under Delaware's Certificate of Need laws. UHS hired Array to evaluate an addition to accommodate 20-25 beds, as well as provide a feasibility report and conceptual site plans. The scope also included repurposing office space for patient use and relocating staff functions more remotely from the patient care areas along a newly created connecting corridor.
In 2010, Dover Behavioral Health System, already in the process of adding five beds in underutilized spaces, planned to expand its facility to include up to 20 additional beds. Dover provides dual diagnosis, detox and critical care for adolescent and adult services. However, the System first needed to assess the proposed project's feasibility. After completing the five-bed renovation design, Array designed a 24-bed addition that provides "flex" beds between the new and existing units. Additional renovations to the outpatient programs provide adjacency and flexibility among similar patient populations. Following an IPD approach at Dover and encouraged by UHS, the team completed the 24-bed addition construction within six months and within budget. The team's relationship and previous experience enabled strong communication throughout project delivery.
Since the projects all included increasing bed count, we were able to employ many of the same materials and designs across campuses, extending the brand of the Delaware facilities. Because of locality, three projects employed the same subcontractors – again allowing us to take advantage of the learning curve built on prior engagements.
While two projects executed a formal tri-party agreement among UHS, Wohlsen Construction and Array, all four projects implemented the principles of IPD. While the contract connected the team, contractually and monetarily, following IPD principles ensured the team was committed to the collaborative process, working together toward one goal.
An added benefit of the team's long-term relationship was the knowledge that not only could the design and construction teams work together effectively as a cohesive unit, but also gaining an understanding of how each team functioned and what tools each team member uses in their day-to-day project operations. We know each other's strengths and weaknesses; we know each other's cultures and how individual team members function. This significantly helped with team engagement expectations across the team as well as the ability to anticipate and overcome adversity.
Click the button below to download our thought leadership book and learn more about Array's Behavioral Health experience.