The Veterans Administration (VA) has recognized the importance of providing female-specific services and has embarked on a national initiative to invest in VA Women's Health Services. Their Mission is to "address the healthcare needs of female veterans and ensure that timely, equitable, high-quality, comprehensive healthcare services are provided in a sensitive and safe environment at VA health facilities nationwide." In addition to primary and gynecological care, sites may also provide outpatient and specialty care as well as mental health services. Each center is led by a Program Manager to assist women and help coordinate their care.
While responding to site-specific circumstances, there is always an overarching goal to provide a high quality experience for patients which directly correlates with the environment of care. In response, the designs for the VA Women's Health Centers often feature dedicated entrances if possible, waiting areas with child play zones, hospitality services and positive distractions. The Program Manager's office is typically located close to the waiting room to foster ease of access and communication. Location of program elements and flow through the center are planned with consideration of access requirements, frequency of use, duration of visit, necessary adjacencies and privacy. Programs with a robust mental health component may have a discreet discharge in the event the patient has had an emotional counseling session and does not want to exit through the waiting room.
In addition, there is often a multi-purpose room group in recognition of the benefits of group dialogue and support. In the ideal, the group room should be accessible even during off-hours when the Health Center is closed for routine clinical care. The design of the clinical area requires careful planning with desired standardization of exam rooms, privacy door swing, dedicated toilet rooms per exam room and even a wardrobe for personal belongings. Building upon VA planning guidelines, all spaces are designed to address accessibility requirements and centers typically provide bariatric accommodation as well. The VA employs technology to the fullest, with electronic and kiosk registration, bedside charting and telemedicine capability providing flexibility to address unique requirements for consultation and care in rural or remote locations.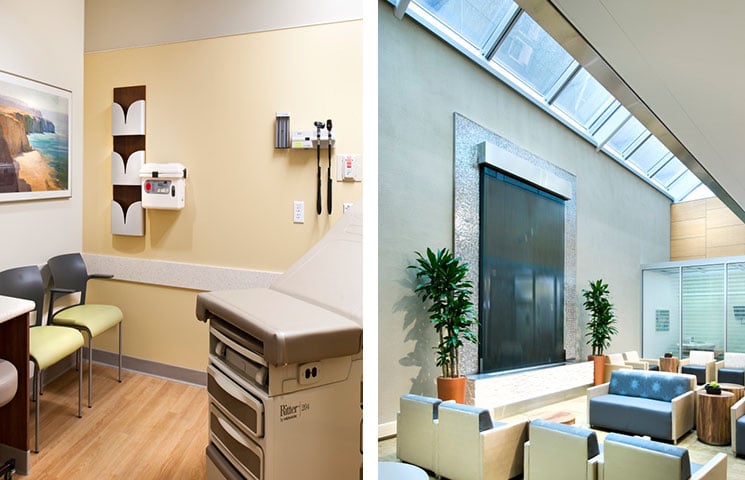 In addition to the layout, the visual quality of the environment is important to women. In essence, the creation of an aesthetically-pleasing healing environment with functional and well-proportioned spaces, attractive finish materials, outside views or images of nature, artwork, lighting variety and possibly even soothing background sounds serves to alleviate stress, foster privacy, create comfort and enhance communication. These physical attributes will contribute to a positive, memorable experience with the goal of empowering female veterans to take their health into their own hands, the results of which will benefit family, community and society.
Working with VA providers, many of whom are female veterans, on the design of VA Women's Health Centers throughout the country has been a privilege and I hope in some way our efforts make a positive impact on the lives of our veterans.
Please read my first blog in the Women's Healthcare series.