Preparing a healthcare campus for a major transformation project requires many smaller projects to enable the building of the new facilities.
As part of Array Architects' extensive, network-wide facilities master plan for University Hospitals' $1 billion transformation program, the re-evaluation, reorganization and relocation of numerous campus services was critical to improving patient care and operational efficiencies at Case Medical Center in Cleveland. In addition to planning and design for new facilities on campus (including a 150-bed cancer hospital, expanded emergency services and improvements at Rainbow Babies & Children's Hospital), we implemented a myriad of projects that allowed the transformation to occur. There were departments to relocate, buildings to demolish and infrastructure to build. These enabler projects had to start immediately, meet a limited budget and, above all, not delay the start of the centerpiece projects.
The most significant effort was to vacate and demolish two large, occupied buildings to make room for new healthcare buildings and site layout. One building contained offices for 39 departments and the other contained inpatient and outpatient behavioral health departments. Relocating each occupying department was required, on a campus with very limited available space. In addition to the demolition of buildings, the new campus layout at the main entrance necessitated that the flow of patients and visitors be re-oriented.
The Challenge: Move 1,054 people in 52 departments across 16 buildings in 18 months on a limited budget.
The Solution: Planning, Scheduling, Process and Communication
Planning
Having previously assessed the campus and developed the master plan for the transformation, Array proposed the departments UH should consider for relocation. Beyond making space for the new construction, we suggested also addressing issues that had developed because of departments scattered in multiple locations, departments leasing on a temporary or space-available basis and departments that had to relocate to address the new campus orientation. The challenge grew when UH announced they also wanted to consolidate administrative departments from multiple leased spaces around the region to one large UH-purchased office building.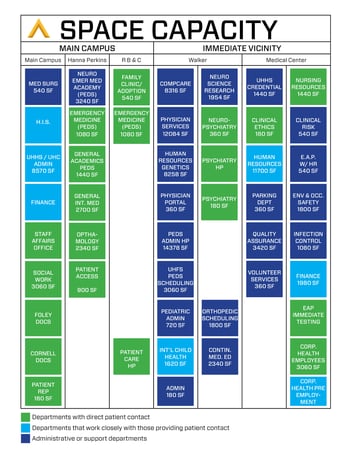 After hospital leadership approved the department candidates, we developed a categorization system to organize the planning. We facilitated a series of meetings with hospital leadership to place each department in the appropriate category:
Main Campus – Departments that had direct patient contact
Close to Campus – Departments that worked closely with those providing patient services
Off-Campus – Administrative or support departments
With categories established, we proposed several planning solutions based on an analysis of available space; appropriate on-, near- and off-campus locations; probable costs for design, construction, furniture and equipment, and moving; as well as the headcount, square footage and the potential for growth of each department. Another series of meetings with hospital leadership narrowed down the options to an approved overall plan.
Scheduling
To accommodate off-campus lease start dates, available dates for temporary space and domino-like multi-step move sequences, the team derived an initial sequence of moves from currently available spaces. With multiple new buildings being designed, each on its own schedule, the start dates for each were the major milestones for the enabling projects. Complicating the schedule were departments in buildings that had to be demolished before those dates, as well as departments planned to occupy spaces where other departments currently existed.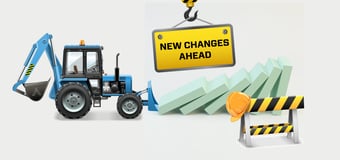 After loading the master schedule with traditional phases for programming, design, approvals, permits, construction and moving for each department, it became apparent that we needed a major change to the traditional approach. There were too many people involved, too many variables and too much time lost to decision-making within the traditional design-bid-build approach. A new approach was developed and the schedule shortened into the time available.
Process
Array dissected, analyzed and re-assembled the design, construction and moving process for a leaner, faster approach. To shorten the decision-making process, standards were set for who was involved; who made decisions; which size spaces were allowed for directors, managers, staff and support functions; how to set future department headcounts; how to allocate new and reusable furniture; and which finishes to use.
A single integrated team was used for the entire project. The team comprised the owner's decision makers, the architect and engineer team, a general contractor, furniture dealer, relocation planner and mover, as well as the owner's staff for information technology, supply chain, mail service and food service. This team covered all of the bases for a coordinated effort and for establishing costs, tracking budgets and value engineering on the fly, processes that were dynamic and ongoing throughout the entire year-and-a-half project.
To avoid the time-consuming process of the bidding and contracting sequence, each contracted entity signed a time and material or cost-plus contract. All cost data was open-book for the whole team to understand costs and suggest cost-saving measures.
To maintain order and functionality: the team developed, and regularly reviewed, comprehensive checklists and detailed schedules for design, approvals, construction and moving.
As initial programming and design began for the first relocations, the relocation planner and mover performed inventories of each department's contents and furniture to determine costs of moving as well as furniture and furnishings that were suitable for re-use. The planner measured, photographed, tagged and entered re-usable furniture into an online database for easy retrieval for planned re-use. The mover warehoused it so it could be readily delivered on move-in.
We streamlined the data collection process for employee counts by going directly to Human Resources for each department's full- and part-time headcounts, open positions and titles. Avoiding delays from individual departments, we completed space programming in one meeting with each department using the standards for space allocation by position and title.
Communication
With so many moving parts, and a limited schedule, complete, accurate and frequent communication was a necessity. At the start, Array conducted weekly team meetings to set up detailed procedures and finalize schedules and budgets. As the project progressed, meetings were changed to bi-weekly with detailed agendas and review of schedule and budgets. Each team member reported on progress, upcoming activities, problems encountered and opportunities for shortening schedules, decreasing costs or improving the process. Additionally, all team members were on-call to immediately address any issues as they occurred.
Array conducted monthly meetings with hospital leadership to report on progress, schedule and budgets, as well as define and address owner's changes. Additionally, Array held regular meetings with the building department to review permit approvals status, inform them of the scope and schedule of upcoming submittals and coordinate inspection schedules.
The Result
With focus on the planning, scheduling, process and communication, Array led the team through this complicated, dynamic and fast-paced project with great results. Each department moved on its scheduled date, not a single box was lost, the phone and computer systems were up and running on move-in day and the budget was met. All achieved in time to clear the site for the campus transformation.
Blog authored by Ray Corby, prior Engagement Manager with Array.