Often when we are working with a client to design their space, we have a number of meetings in which we review renderings, materials, etc. While we always like to go to the client with a polished presentation, sometimes clients can struggle to articulate their design goals for a project. A great way to help clients think outside the box is to have a work session in our office.
This option allows clients to have more interaction in the design of the space, as well as have a larger variety of material options at their disposal for review and consideration.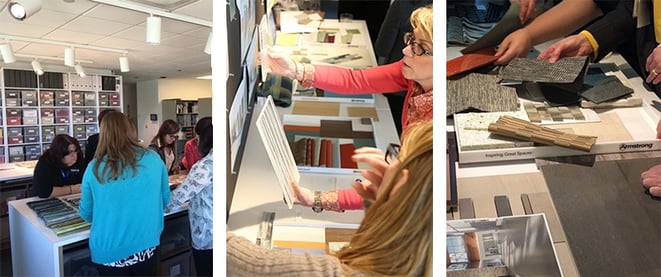 Having a design work session in our offices gives us the ability to show many more options, as well as have materials at the ready for review when we want to consider another material or application. By including the client in this process, it often leads to the optimal design result since the client has had more time to invest in their design.
In today's economy and building culture, most projects go through a value engineering (VE) stage before the project can continue, often looking to alter the finishes selections for cost savings. While designers should be cognizant of the project budget and material costs, we all know that the finishes often leave a lasting impression when analyzing the design of the space. If the client has worked with you in the library and has had the chance to fall in love with the application of the unique material or feels extremely invested in the palette of the space, it's often an advantage when it comes time to make the VE decisions. With the client participating in the decision-making process, they are more aware of the design intent. It can also be easier to evaluate other material options with the client when they've had the work session experience.
In the end, this partnership will lead to a successful project with a lasting impression for both the client and the public's view of the completed project space. Explore an ambulatory care center's interior design as Pat Malick narrates the below video tour of Montefiore Medical Center's outpatient hub.