When Jefferson Health and Aegis Project Management engaged Array to design their first-ever multi-specialty clinic, our team had the privilege of working with Jefferson Health leadership to create a landmark facility at the Philadelphia Navy Yard. Transforming a building that was once home to the 76ers and the Tastykake corporate offices, we were challenged to create a flexible and changeable space in a burgeoning location. Employing mock-ups, user engagement exercises, and a lean planning process, we gained consensus among multiple specialties, users and staff to design a facility that drives collaboration, delivers convenience and enables coordinated care. Let's take a closer look at the location of the facility, our design process and lessons learned post-occupancy.
Supporting Growth at the Philadelphia Navy Yard

The Philadelphia Navy Yard is a waterfront urban development site that is home to 152 companies, 20 acres of park space and amenities such as hotels, corporate headquarters and banks. With 12,000+ employees stationed at the location, proximity to the city and existing Jefferson Health facilities already onsite, the venue is ideal for deploying a convenient, user-friendly delivery model.
The move achieves healthcare exclusivity on a growth-oriented campus and consolidates Jefferson's existing Navy Yard assets – including a physician practice, surgical center and comprehensive concussion center – into one location. Most notable from a design perspective, the location features high-impact signage visible from highways I-95 and 76.
Project Overview & Facility Offerings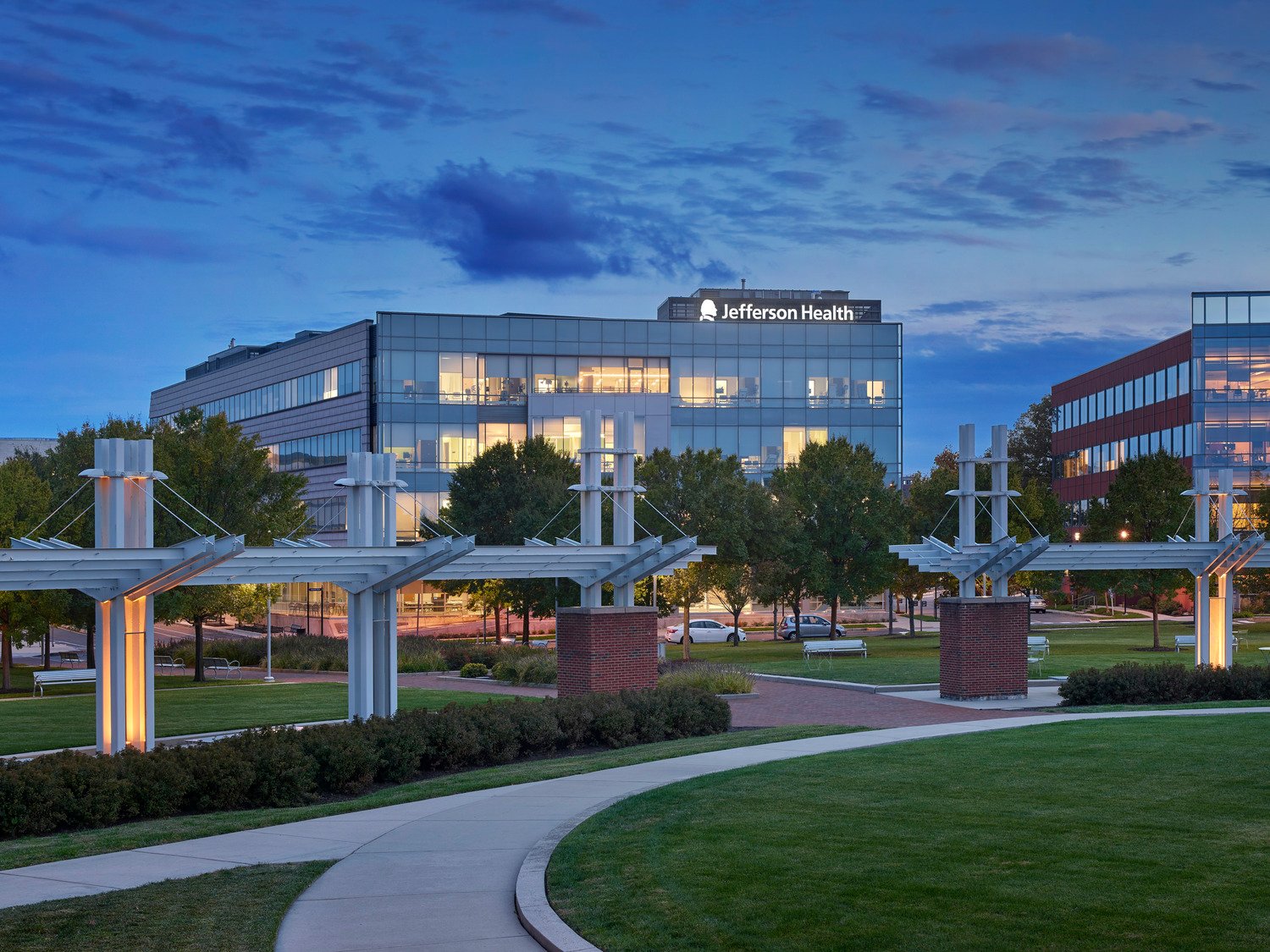 A comprehensive, 56,000 SF renovation included adding a communicating staircase, mechanical and plumbing upgrades, additional fireproofing and elevator upgrades to set the stage for this multi-specialty outpatient center. Jefferson Health's vision was to create a consumer-oriented health home and regional health care destination, and the range of services integrated in the facility enable this. A variety of specialties located in the facility span the spectrum of care, including core, complementary, destination, supporting and consultative services in one location.
Designed with Multiple Users in Mind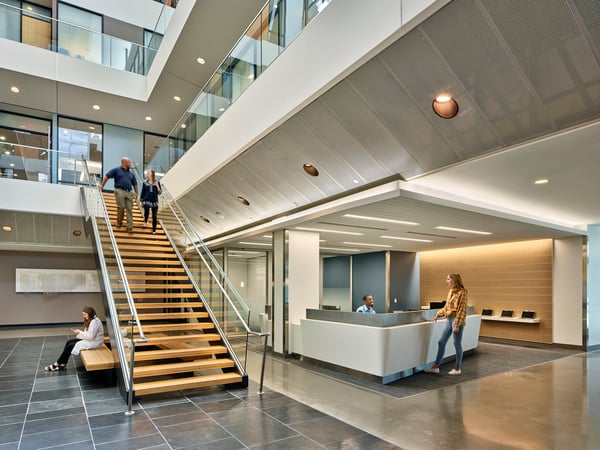 A light, bright and comfortable interior with curvilinear features helps soften the edges of the building and set the Center apart from the aesthetic of other outpatient centers in the Jefferson Health portfolio. An approachable and welcoming atmosphere was prioritized in the design to appeal to multiple user groups, including millennials working nearby, South Philadelphia natives who are accustomed to more traditional healthcare experiences and mobility-challenged patients. A welcome desk helps guide visitors, while adjacent tablets allow technologically savvy patients to check in.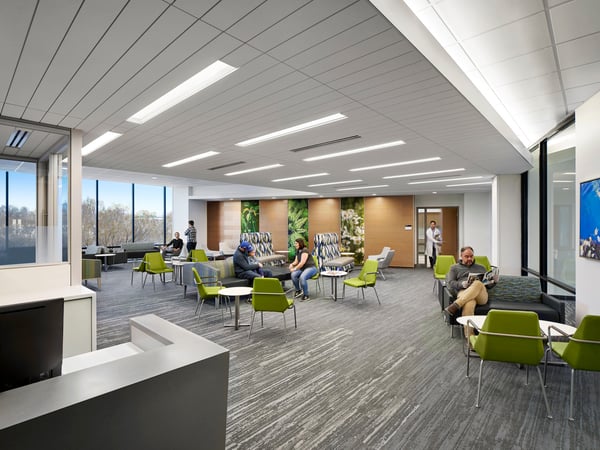 Waiting areas feature flexible seating, power and data access; notably, no TVs are included in waiting areas, with user groups recognizing that visitors were more likely to engage with personal devices to pass the time. For mobility-challenged visitors, nearby handicap parking, convenient elevators and direct and easy access to specialized clinics provide the features and space needed to navigate and feel comfortable in the space. The communicating staircase on the first floor provides a second outlet for foot traffic to ensure elevators are available.
Using Mock-ups to Ensure Operational Success & Flexibility
Rooted in Array's Lean process, our team used mock-ups to design the standardized exam and procedure rooms in coordination with Jefferson's core group, which consisted of leadership, clinicians, administrative staff and patient advocates. After taking the time to fully understand the goal of the mock-up process, we assessed the constraints of the existing building, which includes an exterior with 10-foot spans from mullion to mullion. We knew that we would need a Medical Assistant (MA) station between the two exam rooms and needed at least a 120 SF room. Bearing those specifications in mind, our team designed an exam room, corresponding MA station and procedure room with cardboard.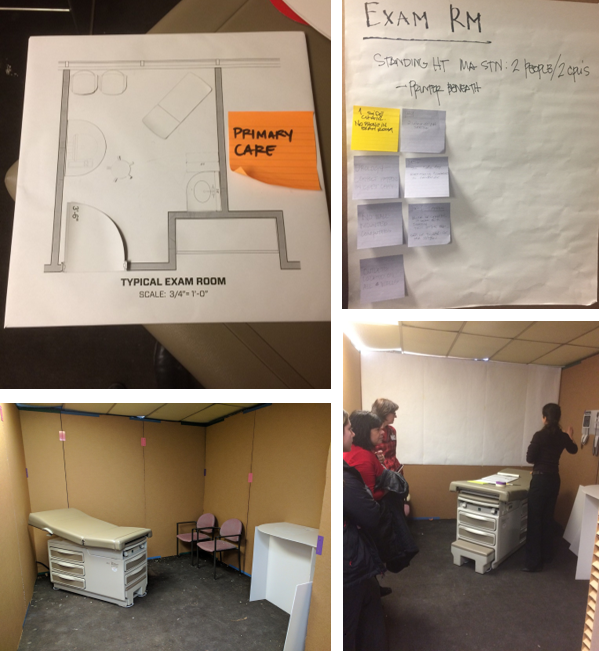 With the mock-up built, we hosted an open house, inviting all specialties, community members and patient representatives to test the space. Using paper dolls and magnet boards, clinicians simulated common patient interactions. The goal was to create consensus on the configuration of exam and procedure rooms across a wide range of specialties, which would in turn allow Jefferson ultimate flexibility with a repeated design throughout the center.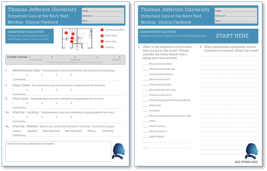 Most critical in this endeavor was the feedback provided during the mock-up. To facilitate that exchange, surveys that included a floor plan were designed to specifically address how the configuration of the room supports each clinician's process were distributed. Created by Array's Interior Design team member Jennifer Tinsley, the front of the survey included numerical ratings for space configuration, while the back allowed each specialty to put in sequence the things patients do during common visits. The survey also allowed clinicians to identify equipment the room needs to accommodate.
Using the feedback collected during the interactive mock-ups and from the surveys, the team developed a universal design that supports all specialties at the center with one exception.* Overall, the universal exam room & MA design work in tandem with standardized medication and point of care rooms across the center to enable ultimate flexibility across clinics. Each point-of-care and medication space is constructed based on a universal design that can accommodate all necessary equipment, allowing subspecialties to simply omit equipment they do not need. This allows MAs to float between specialties on each floor and still know where supplies and equipment are. Perhaps the best example of the success of this universal design is that Jefferson Health has already moved clinics, relocating some medical subspecialties into the primary care space, and required zero architectural changes or exceptions from the Department of Health.
Creating a Culture of Collaboration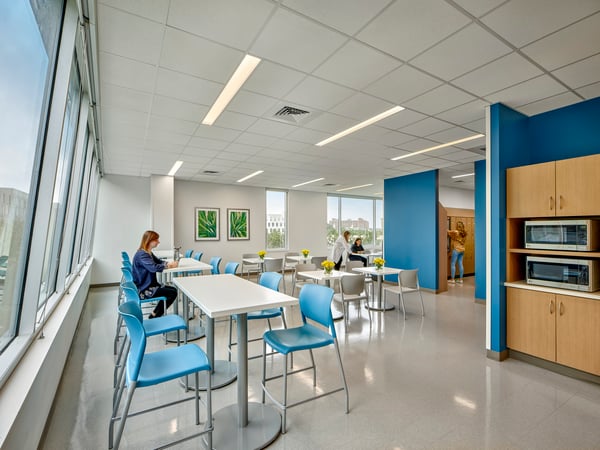 True to the spirit of a multispecialty outpatient center, this design includes communal lockers and lounge areas for staff on the second floor, a shared team center with computers and private talk rooms, and collocated offices on the fourth floor. Communal spaces have allowed staff to learn from each other in new and unexpected ways, including discovering services they didn't know existed in the building. The collocated offices help foster collaboration between specialties, encouraging physicians to discuss cases and areas for potential collaboration. The results of improved communication cross-specialty are impressive and can even enable a wide range of services to be coordinated in one day. Watch the video below to hear how the multi-specialty nature of the center is already improving clinical outcomes directly from Jefferson Health staff.
Lessons Learned
After the facility opened, our team returned to perform a Post-Occupancy Evaluation to inform future designs and address any newfound operational needs. Thanks to prior planning and careful coordination with Jefferson Health, this evaluation was performed in one day to minimize disruption to operations. While the formal findings are not yet available, a few key lessons emerged that I will share:
The standardized designs worked. Jefferson has already leveraged the flexibility enabled by the design to utilize space more effectively, and MAs are happy with the layout of the Point of Care and Medications rooms.
* While the universal exam and procedure room design was successful overall, the Ear Nose and Throat specialists need a bigger room to enable access to all sides of the patient.
Patient flow, parking and overall experience has been positive.
As we synthesize our finding and apply the lessons learned in this project to future ones, we look forward to continuing to share our knowledge.
Design Takeaways
A multispecialty outpatient center is an excellent facility to deliver well-coordinated care to patients in a strategic location. Employing user engagement exercises, mock-ups, and a lean planning process, standardized clinics can enable flexibility and changeability in the space, while collocated offices and communal areas can improve staff satisfaction and effectiveness. Jefferson Health's new facility is a significant step towards their goal of creating a consumer-oriented health home and regional health care destination, and we were thrilled we were able to partner with Jefferson Health, Aegis Project Management and P. Agnes to create this project.
Learn what else clinicians are saying about Jefferson Health's new facility in this video: