Recently, Pat Malick and I were invited to present a webinar sponsored by the American Institute of Architects and their Academy of Architecture for Health. We focused the presentation around our work with the administrative and clinical teams at Children's Hospital of The King's Daughters (CHKD), sharing how we developed a framework for behavioral health design ideas. The project, a 14-story pediatric behavioral health patient tower in Norfolk, VA, combines 60 inpatient beds and outpatient care for a specialized population who is not receiving behavioral healthcare services at the rate and speed necessary.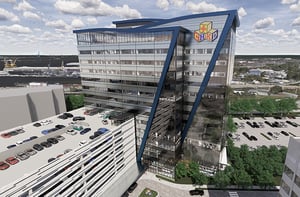 CHKD is not only building the infrastructure and recruiting specialized staff to care for the children and teens of the local area, they are also collaborating with local schools and primary care physicians to make sure services and resources are available where they are needed.
At Array, we are passionate about helping health systems align their capital expenditures with their behavioral health service line needs. Pat and I enjoyed the camaraderie of our webinar attendees and appreciate the dedication providers, clinicians and other design professionals have for closing the gap in behavioral health services and care.
A recording of the webinar is now available, and I encourage you to watch it for an inside look at the exercises, tools and collaboration applied to conceptualizing a transformative facility design.
This article was authored by Jon Sell, a former employee of Array.