When we lead our clients through visioning sessions to explore the desired look, feel and functionality of their environments, we use empathy and amenity mapping and top dot exercises to engage clinicians, patients, family members and project leaders in a dynamic conversation around key experience drivers.

Empathy-driven design is particularly relevant in healthcare, Array's sole specialty. Bringing a variety of project stakeholders together to share thoughts can set the tone for a holistic experience, one where our planners and designers gain insight from providers and patients and the providers and patients understand more wholly the intent behind our proposed design solutions. Read more on the empathy mapping we do with clients.

Recently, we had the chance to engage Array's staff in a visioning process as a prelude to our own move to a new environment for ourselves. It's rare for the whole office to be able to come together around one specific project during both vision and prototyping sessions. We took advantage of popular social sharing sites such as Pinterest and staff pinned inspirational photos of ideal work environments with a mix of collaborative and meeting spaces as well as areas to display and categorize finishes, meet with clients and test lighting, materials, etc. This was the time to experiment with a variety of 'big' and out-of-the-box ideas.

Employees offered insights as to what they'd like to hear, see, feel and think in an inspiring office environment. We also discussed what we think our clients and resource partners should experience when visiting our space. Should the studio be filled with natural light and have workspaces that face one another? Should there be a mix of open and closed conference rooms? How best to integrate SMART technology across offices and with remote clients? Ultimately, we developed an open, and energized environment, capitalizing on natural and indirect light, lots of white walls, and pops of saturated colors. Our work spaces will be highly adaptable, with sit-to-stand workzones for all. A farm table is the centerpoint of our Bistro, which opens to a large Rapid-testing/Prototype zone.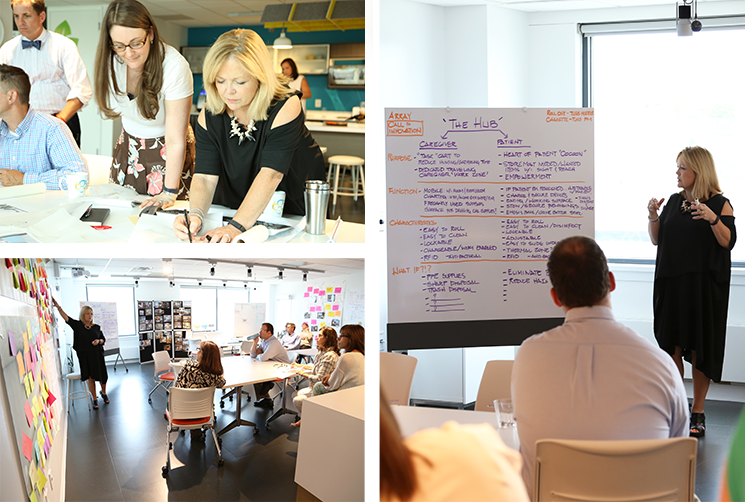 In just a few weeks we will be in our new space, with views toward the river and nature trail. We'll hear the local train rumble by a few times an hour. We'll be experiencing our new space much like our clients do – by getting to know the new workflow, interacting with colleagues we may not have been positioned near in our current space and feeling empowered that this talented group had a significant say in their new environment.
To read more by Pat Malick, click the link beow to download her Healing Power of Art Design Book. This book highlights how Array has collaborated with clients to incorporate Art into their facilities as another means of healing.