I was introduced to healthcare architecture while contributing to the completion of a new adult inpatient behavioral center that redefined how a patient's environment of care can enhance their response to mental and behavioral health treatment programs. The adult building was one of several new facilities that initiated an entire campus redevelopment aimed at improving patient access to care and the environment of care. Professionally, I was intrigued by the heightened level of consideration and attention to detail necessary to deliver a safe and therapeutic environment. Additional planning, detailing and product analysis is necessary to ensure that both patient and staff safety is uncompromised, patient dignity is vehemently protected, and the built environment enhances healing.
The client's objective was to transform their existing 1950s campus into a modern 21st Century behavioral health treatment center for all ages. Three critical objectives for all new facility design and construction were defined:
The architecture must be non-institutional and residentially-themed, shattering all stigmas about the perceived environment of care for patients suffering from behavioral illnesses.
The facilities must embody the principles of sustainable and evidenced-based design to foster new treatment models for behavioral health.
The facilities needed to balance formal and informal program spaces enhancing the patient's therapeutic treatment options while increasing staff opportunities for collaboration and patient interaction.


Completed in 2016, the adult behavioral health center embodies ancient synergies linking architecture and medicine. This state-of-the-art facility was conceived as a paradigm-shifting, scalable architectural model for the delivery of inpatient behavioral healthcare. Previous facility designs that restricted patient freedoms and imposed barriers to personal interactions no longer supported modern treatment philosophies. These stigmas contribute to increased patient stress and agitation levels, detracting from established treatment programs and resulting in increased recidivism rates and extended lengths of stay. Today, we recognize that a patient's environment of care can provide both safety and dignity, and that it is intrinsically linked to the healing process.
Evaluating the Patient's Journey
The whole patient treatment timeline, sequence and environment were analyzed and re-imagined, achieving a balance between safety and healing. We began with a patient's approach to campus, and proceeded into the following:
The admissions and evaluations sequence
How daily activities, routines and sleeping accommodations, and food services were provided
Access to medical treatment, personal care and types of off-living unit programming
Access to legal counsel and court appearances culminating in a patient's discharge
Based upon the data collected, the new programmatic model created synergistic nodes and unique adjacencies enhancing progressive behavioral treatment programs.
Lifting off the veil of misconception beginning with the treatment facility approach was a crucial first step to eliminate all preconceptions and stigmas associated with entering an in-patient behavioral health treatment center. No longer valid is the mid-18th century Kirkbride modeled facility. Patients and staff prefer a sense of transparency in the facility design and its services. It is critical to deliver a first impression of a visually-inviting facility that sets a person's state of mind and body at ease instead of contributing to a heightened level of stress and agitation. Relieving stress and agitation through the environment of care from the earliest moments of assessment and evaluation will improve the accuracy of a patient's diagnosis, improving a patient's response to initial stabilizing treatments.
Design Elements
Architecturally, the massing, form and materials for the Adult Building were selected to be warm and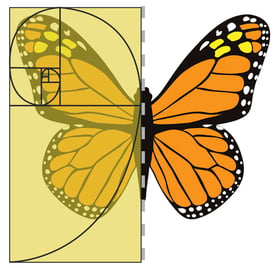 inviting, affording patients a sense of calm, transparency and dignity. Matching a butterfly's wings in nature, a bi-laterally symmetrical parti affords a geometrically harmonious form and organization that is inherently efficient. A creative architectural vocabulary of components presents a non-institutional appearing facility that resembles more of a commercial type outpatient center and not a long-term inpatient care center. Extensive areas of interior and exterior landscaping create places for quiet respite and calm, invoking the positive feelings associated with that of an outdoor public park. Outdoor amenities such as covered pavilions, garden boxes, boardwalks, covered tables and chairs, benches, tree shading and shrubbery, grassy knolls and concrete pavers encourage fresh air time and engagement with nature. Gardening has proven to be a timeless rehabilitation means for treating depression and anxiety. The campus achieved overall LEED® Gold accreditation.
Promoting Operational Excellence and Patient Autonomy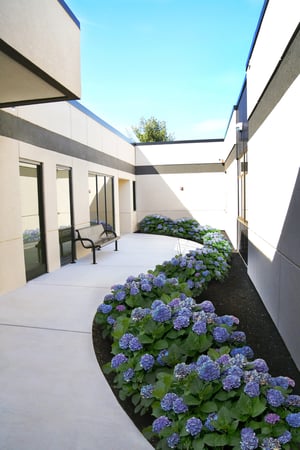 Programmatic adjacency requirements and relationships were prioritized to support collaboration amongst staff and to define a structured environment of care that is open, inviting and residentially themed. A ground floor treatment mall and central cafeteria-styled dining room invites patients to leave their living units and partake in everyday activities. This infrastructure improves their self-confidence in contributing as a member of their community and family. Indoor and outdoor activity areas such as a multipurpose gymnasium support modern holistic treatment programs aimed at overall mind and body wellness. Physical exercise and fresh air are a patient's right and enhance their response to treatment programs. By strategically locating the ground floor program spaces along the treatment mall or Main Street, each space is afforded an opportunity for views to the outdoor gardens, recreation areas and landscaping via large windows and floor-to-ceiling glazed walls.
Floor heights were increased to 16 feet for the ground floor and 14 feet for the floors above, increasing the available interior spatial volume for improved circulation, accessibility, daylight penetration, acoustics and safety. To maximize open floor space on the upper floor living units, all of the vertical risers supporting the plumbing, HVAC, and electrical services were relocated to stacked areas adjacent to the exterior walls creating large open living areas awash in daylight and views to the landscaped site. Living unit corridors were widened to between 11 and 14 feet. Ceramic tile wainscoting, naturally-finished solid wood handrails and wood styled doors were selected to enhance the theme. High coffered ceilings ranging from nine to 11 feet organize open floor programmatic spaces with residential-themed furnishings. Solid sheet flooring installed in a rhythmic pattern is durable, colorful and sustainable. For each living unit of 13 single patient bedrooms, three private toilets, each with its own shower, are provided. All lavatory and bathing rooms were constructed of floor-to-ceiling ceramic tile, mosaic floor tile and solid surface countertops continuing the residential theme and exceeding the client's strict requirements for maximum durability. All furnishings, fixtures, equipment and accessories were select for their elevated levels of anti-ligature resistance.
All 156 private patient bedrooms have a large operable window and dormitory styled furniture. One interior wall of each room was painted with an accent color that identified a patient's room to a living unit within the facility, assisting with a means of wayfinding and identification. The patient corridors are anchored by oversized windows, providing abundant daylighting and views to the landscaped outdoor recreation areas and fresh air parks surrounding the facility. Opportunities for daylight were maximized at all public/patient areas. Calming rooms with visible means for observation by staff with programmable mood lighting sequences offer alternatives to patient stabilization in lieu of isolation.
Direct observation of two living units occurs via a centralized team center. One staff member can monitor two living units (26 patients) concurrently from one vantage point. Constructed on elevated plinths, the teaming center profile and massing establish limits to the proximity of comfortable interaction between staff and patients. Height and form of the team center deters climbing while still facilitating therapeutic interactions without traditional panelized barriers. The raised elevation and orientation of the team center enhances observatory sight lines of the living units and increases security, resulting in heightened awareness of the presence of staff. By emphasizing security without barriers, this approach promotes controlled interactions by patients and staff in less stressful environment. The result promotes an increased patient response to treatment.
Creating an Ideal Environment of Care
Several creative design approaches were required for architecture to deliver the client's project objective of shaping an environment of care that enhances a patient's response to their treatment model and rehabilitation. By improving a patient's state of well-being through a supportive environment of care, their treatment progress by all accounts should result in a reduced patient length of stay, improved success rates and reduced recidivism. There has been an increase in overall new research focused on a patient's environment of care relative to their behavioral health treatment program's success or failure, but more research is still necessary to identify how this approach is transforming treatment success. It is my hope that this new research and data will foster the next generation of treatment philosophies and design approaches.
The adult model was so successful that a second facility was planned and programmed as a successful adaption of the original parti. The additional project afforded me opportunities to further advance my knowledge of behavioral health planning, programming and design. With Array's commitment to the advancement of healthcare design and evidence-based care, behavioral health patients will continue to be treated with dignity while they heal.
Click the button below to explore our behavioral health design book.
Blog authored by Walter Ksiasak, former architect with Array.