What do an architect, front-end software developer and healthcare systems engineer have in common? All three seemingly dissimilar professionals work side-by-side at Array.
Array Architects is recognized as one of the nation's leaders in healthcare facility design, but the firm has grown to deliver much more than architectural solutions. Where some firms have adapted to compete primarily on the basis of price, Array's organization has progressed into a comprehensive resource for healthcare organizations to plan, improve, analyze and design their facilities.
"Competing on architectural services alone is a race to the bottom," Array's CEO Carl Davis said. "The commoditization of that service is occurring at an alarming rate."
The company defined three distinct service areas – Architects, Advisors and Analytics – as the breadth of its capabilities came into focus. This multidisciplinary team provides three critical perspectives to delivering a complete continuum of project exploration and execution for healthcare providers.
Array Architects: Lean as a Foundation for Inspired Design
Array Architects' 35+ year history in healthcare architecture serves as a solid foundation that guides their unique approach. The team is committed to improving healthcare outcomes by providing design solutions informed by integrated insights across the organization.
Array finds that each challenge healthcare providers face when starting a capital project is an opportunity to adapt, anticipate, improve, or transform. Every project at Array begins with a lean approach that's grounded in an understanding of the client's business. The result is inspired design that improves the delivery of patient care and reduces waste. That environment is bolstered by transformational design that improves patient experience, and a process that quickly integrates the latest technology to improve collaboration and quality. Today, Array is a leader in building information modeling and integrated project delivery, both avenues to more efficient project delivery, greater coordination and a less wasteful process.
"The architectural practice still informs and is the foundation of everything that we do," CEO Carl Davis said. "From the beginning, the importance providing remarkable, strategy drive, business-justified solutions for our healthcare clients has been part of our DNA."
Davis points out that the founders of the firm previously worked in for-profit environments, leading them to identify economic drivers for each buildings element from the beginning. That philosophy of sustainability inspired the firm to formalize their approach.
"We came to experience that in the context of doing capital projects with clients, there were often decisions that seemingly were worked out until we got into the throes of designing a building and discovered they weren't," Jonathan Bykowski, Array Advisors President,, said. "Those unanswered questions are often disruptive to the capital project – and rightly so. You're spending a lot of money, so you want to make sure you're doing the right thing."
Helping clients when they got lost in those moments served as the driving force for the evolution of a series of tools and methodologies to help them navigate the common pitfalls of a capital project. The team quickly saw the value of performing operational improvement, transformation and strategic planning even if clients did not have a pending capital project. In response, Array Advisors was created.
Array Advisors: Pathways to Problem Solving
Array Advisors is a multi-disciplinary team that provides custom solutions to optimize healthcare operations and overcome business challenges. The team's socratically-based approach to problem solving is defined by partnership.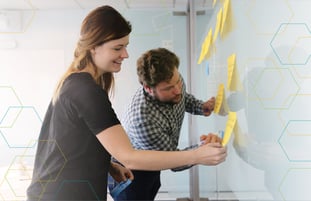 "We can't come in with just our own experiences and claim to be able to provide the perfect solution," Noah Tolson, Array Architects President, said. "It has to come from the people doing the work – people who understand what works well and what doesn't, and that's why our process leads to better outcomes."
Array Advisors relies on their ability to gather client inputs and present multiple solutions to complex problems. The team understands the complete arc of a capital project, making them uniquely suited to help healthcare clients prioritize and address questions pertinent to that work. Array Advisors has helped health facilities avoid capital projects altogether by uncovering how to best leverage existing assets through simulation modeling, feasibility studies and operational workflow improvement. Results like this are emblematic of Array's mission to find the most optimal solution for a capital project—even if that means building nothing at all. The ability to contextualize and study the business drivers of healthcare is critical, and this has led them to look for new ways to perform that work.
"We recognized the fact that many of the deliverables for some of our key services – from strategic facility master plans to operational optimization plans – were static in nature, with plans and decision models being codified into reports. Health organizations operate within a hypercomplex and continuously-evolving environment, and reports do not provide exceptional and sustainable value to our customers. This was unacceptable to us," Array Analytics President Fady Barmada said.
Array found that when their teams went home, it became much more difficult for their partners to re-test assumptions or to realign critical decision models with internally or externally-driven changes. As soon as those changes occurred, reports that the firm and client built together became almost useless.
"We said, 'There has to be a technology that would allow us to dynamically host these models, and to tie to real-time inputs,'" Barmada explains. "We spent a great deal of time looking for one, and we discovered that nothing on the market allowed us to change the nature of our deliverable, to create and define a sustainable value proposition. So, we decided to build one. That's how Array Analytics was born."
Array Analytics: Leveraging Technology to Define Opportunity
Array Analytics is an innovative think tank of analysts and software-solution developers dedicated to helping healthcare systems identify and contextualize business drivers. It was created because the leaders at Array saw the need to bring healthcare master planning into the 21st century. The first product developed by Array Analytics is Pivotal, a software platform that facilitates dynamic strategic master planning for healthcare business.
"We thought: why can't we take master planning to the cloud? Rather than spreadsheets of data that can't be consumed, why not use all the data that's available to influence strategic decisions that hospitals make in one platform that's always streaming," Array's CEO Carl Davis said.
Where once business cycles were seven to 10 years long, today they are as few as three years. In this dynamic climate, the need to respond to changing realities is paramount. Built into the platform is real-time scenario testing, comprehensive demographics and a unified geolocation data framework.
"Pivotal embodies the comprehensive perspective that Array brings to every single engagement," Barmada said. "We realize that when a decision is made to invest in expanding capabilities, a broad range of data and a deep understanding of the organization's existing capabilities are necessary to assure that these strategies are as integrated and comprehensive as possible."
An Integrated Approach to Identifying and Solving Problems
The combination of Array's three perspectives – Architects, Advisors, and Analytics – offers a unique opportunity for healthcare providers. Healthcare projects are never only about the capacity, location, or experience of an environment. The integration of dynamic strategic planning, solutions for operational excellence, and inspired design creates a spectrum of project exploration that is critical to arriving at the greatest value for a health system. Explore how this multi-dimensional approach could benefit your organization by contacting us.