Featured in a DropTask case study in December 2015.
Since the firm's transition to a culture that embraces knowledge sharing as a vehicle to provide enhanced value to our clients, Array Architects continuously seeks tools that help us manage our content creation process. We are advocates of transparency, including internal communications.
DropTask is a visual productivity tool that allows users to drag and drop tasks into circles of customizable colors rather than lists. For visually oriented people, this layout enables them to see the big picture as well as their individual tasks, helping boost their productivity. With the ability to filter by one or more team members, each person or department can get a sense of their workload at the click of a button.
A collaborative tool, DropTask allows all team members to see what other members are working on, create and assign tasks and group tasks by topic. Being able to see the contributions (current and planned) of their peers, which may often spark another idea or collaboration opportunity, provides a sense of community.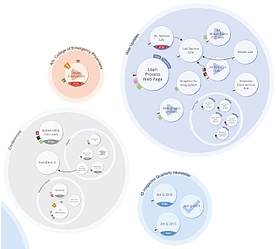 One architect's in-progress blog about a central sterile processing department project could tie into a designer's case study on healthcare flooring options – and the two may inform a thought leadership book on ambulatory care design drivers.
As blog, video and other content ideas come to mind, they can quickly be added as a task, even if assignments and deadlines aren't decided yet. That way, a good idea does not get lost in the rush of another task. Its task bubble is there, waiting to be assigned. Assignment tags and deadlines, once determined, are very noticeable. Those tasks without assigned personnel or deadlines become obvious since they are still simply bubbles with a task name.
Since it is available on the web, as well as a native app for both iOS and Android devices, team members across offices and locations can access their projects at any time. This feature is particularly helpful in weekly marketing meetings, which span offices – each team member can have their droptask screen open and as the roundtable discussion is proceeding, can add tasks, make updates, and assign team members. Having the ability to assign team members, regardless of team hierarchy, provides a level of independence and allows the team to lean on one another's strengths to increase productivity.
Along with the ability to create and assign tasks, team members can create dependencies between tasks, assign due dates, as well as request updates within the application. The co-dependency feature is especially helpful as a series of blogs comes together and begins to become something larger – such as the beginnings of a thought-leadership book. Seeing all the related tasks together sparks new ways to further use the content to inform clients of our expertise. A stand-alone blog or case study, linked by a simple arrow denoting a dependency allows the entire team to see where else the information might be useful.
An important feature for project managers is the ability to filter tasks by team member. At a glance, it becomes apparent when one person becomes overloaded while another team member has capacity to take on additional assignments. Team members can also color-code their "bubbles" if that helps them focus on the tasks at hand.
With a team of six dedicated to marketing and business development, a visual, web-accessible tool has become essential for managing our experts' content creation. The content begins in each project we do with our clients, and tracking its transformation into a blog, video or e-book became much less challenging with a task management platform.